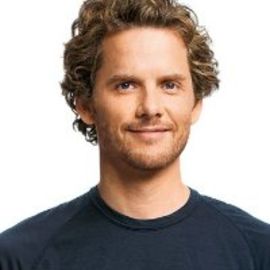 Alternately described as a serial entrepreneur, do-gooder, and designer, Graham Hill is founder and CEO of LifeEdited, where he assists people in designing their lives to include more money, health, and happiness with less stuff, space, and energy - essentially, he helps them edit their lives.
Despite having three times the amount of space we did 50 years ago, Americans today have an enormous excess of "stuff" and not enough room to store it all, leading to credit card debt, huge environmental footprints, and no apparent increase in happiness. Hill's simple solution is to cut back: having fewer possessions and less space create a smaller footprint, help you save money, and give you more ease in life, leading to greater happiness.
Hill is the co-author of Ready, Set, Green: Eight Weeks to Modern Eco-Living, the definitive, practical, and recyclable guide to modern green living that offers an accessible, programmatic eight-week approach to living the modern, eco-friendly life.
Hill, who has a Bachelor of Architecture with distinction from Carleton University in Ottawa and who completed advanced studies in industrial design at ECIAD in Vancouver, has also made ventures in fashion, web development, viral email, and plant-based air filters. In 1995, he and his cousin started and grew the early Internet software consultancy SiteWerks, landing clients such as Microsoft before selling it to a New York company in 1998. In 2003, he founded TreeHugger.com, a one-stop shop for green news, solutions, and product information, which quickly became one of the most respected and trafficked environmental sites on the web. He sold TreeHugger to Discovery Networks in 2007.
Graham Hill brings his audiences back to the basics in his keynotes, offering a roadmap to personal happiness that benefits the environment and other people in the process.
Speech Topics
---
Life Edited: Design Your Life to Include More Money, Health & Happiness with Less Stuff, Space & Energy
Ready, Set, Green: Eight Weeks to Modern Eco-Living
Related Speakers View all
---
Parag Khanna

Leading Geo-Strategist & Author

Dan Ariely

Behavioral Economist; Professor at Duke University; ...

Calvin Trillin

Author, Columnist, Humorist & Political Satirist

Sir Richard Branson

Businessman & Founder of Virgin Group

John Legend

EGOT Winning Musician, Producer & Philantropist

Van Jones

CEO of REFORM Alliance, CNN host, Emmy Award-winning...

Richard Florida

Leading Urbanist, Economist & Author of "The Rise of...

Majora Carter

Real Estate Developer, Peabody Award-Winning Broadca...

Clay Shirky

Expert on New Technology & Social Media, & How They ...

Peter Rojas

Co-founder of Gizmodo and of Engadget

Ray Kurzweil

Chairman of Kurzweil Technologies, Inventor & Futuri...

Brian Hoffstein

Contributing Writer

Peter Thiel

Former CEO and Co-founder of PayPal; Technology Entr...

Raj Patel

Award-Winning Writer, Activist & Academic

Moby

Musician, DJ, Photographer

Muhammad Yunus

Nobel Peace Prize Laureate & Founder of Grameen Bank...

Jeremy Rifkin

Leading Global Technologist, Futurist, Authority on ...

Amy Goodman

Host & Executive Producer, Democracy Now!

An Phung

Multimedia Journalist

Jeffrey Israel

Jeffrey Israel has taught religion and political phi...
More like Graham