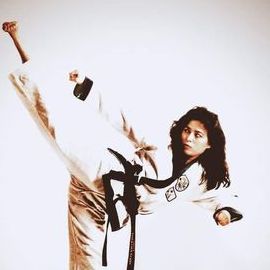 Karen Eden Herdman is a rare 7th degree female martial arts master (7 black belts.) She is the highest ranked female master in her art form of hand-to-hand combat that we are aware of. Grandmaster Karen engages in aiming high with high achievements in spite of difficulties. She also speaks about persisting as a female martial artist for 30 years in an arena that often overlooks women. It starts with her less fortunate childhood, where she grew up in a broken and abusive home. After two years of training in martial arts, she was handed a "Bo staff." This almost caused a personal meltdown because it looked so similar to the stick she used to get punished with. But Karen made it her intent to master the Bo staff and considers it one of her greatest martial arts performing passions today. Grandmaster Karen will perform with the Bo staff after every talk! (or something similar depending on travel restrictions.) Today Karen finds healing in helping other less fortunate young people around the country and the world. She has written 4 books and is a columnist for 2 monthly magazines. Grandmaster Karen still teaches in the Denver, Colorado area.
National Tournament winner and 2 time World Championship competitor: Pittsburgh Pa., Philadelphia Pa., Washington D.C., Boston Ma., and the International Tang Soo Do World Championships.)
Five time Hall of Famer: Bruce Lee Hall of Fame, Columbus, Oh., Legends of Martial Arts Hall of Fame, Scranton, Pa., Action Martial Arts Magazine Hall of Fame, Atlantic City N.J., Korean Martial Arts Masters Hall of Fame, Atlanta, Ga., AFKA Hall of Fame, Lynchburg,Va.
Recipient of the "Joe Lewis Memorial Fighter Award, Greenville S.C. 2020.
Inducted into the Sport Karate Museum, Houston, Tx. 2018.
Inducted into the "Who's Who in Martial Arts" Book inclusion Wash. D.C. 2018.
Listed in " The Worlds Greatest Martial Artists Vol. 9."
On June 16, 2012, Mayor Michael Hancock of the City and County of Denver, Co. declared a proclamation awarding Karen "Her Own Day" on June the 16th for "providing hope and instilling self-confidence in those who might not otherwise have the opportunity in the inner-city of Denver, Colorado."
In 2016, Karen was awarded the Presidential Lifetime Achievement Award from the Office of the White House, for "building a stronger nation through her volunteer services."
Videos
---
Speech Topics
---
Inspiring women, inspiring high achievers and encouraging high achievements, inspiring survivors of abuse
Related Speakers View all
---
Erika Gilchrist

Domestic Abuse Survivor

Theresa Flores

Human Trafficking Survivor, Best Selling Author, Vic...

Liza Pavlakos

Author, Motivational Speaker and Entrepreneur

Robin Quivers

Radio Personality; Author; Actress; News Anchor & Co...

Carolyn S. Hennecy

International survivor-speaker, author and messenger...

Rorion Gracie

Founder of the UFC, Grand Master of Brazilian/Gracie...

Ryan Bomberger

Emmy Award-Winning Creative Professional, Co-founde...

Rebecca Bender

Sex Trafficking Survivor, Advocate & Author

Patricia Cumbie

Sexual Assault Survivor, Belly Dancer & Author

Marci Hamilton

Founder, CEO & Legal Director of CHILD USA; Professo...

Jasvinder Sanghera

Forced Marriage Survivor, Activist, Founder of Karma...

Michelle J. Lamont

Influential Entrepreneur, Founder & CEO of Lamont PR...

Carlotta Taylor

Best Selling Author, International Certified John Ma...

Christina Meredith

Author, Foster Care & Child Abuse Prevention Advocate

Katie Hood

CEO of the One Love Foundation

Torey Hayden

Special Education Teacher and Author

Jonathan Van Ness

Hair & Beauty Expert, Author, Television Personality...

Chantel Olson

International Best Selling Author, Radio Show Host

Jessika Rovell

Attorney, Naval Intelligence Officer, and Sexual Vio...

Erin Merryn

Author, Child Abuse Advocate & Activist for "Erin's ...
More like Grandmaster