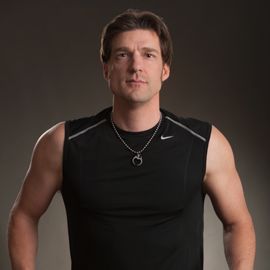 After sustaining a spinal cord injury that left him paralyzed from the waist down, adventurer Grant Korgan - who had never encountered a slope he couldn't ski or a jump he couldn't land on his snowmobile - refused to balk at his new condition because he still had a mission in store. Ten years prior, when his best friend and climbing partner passed away in an avalanche, his parents entrusted Korgan with their son's equipment, entreating him to continue climbing for him. Spurred by his commitment to his friend as well as the support of his wife Shawna, Korgan found the strength to rise from his wheelchair and reclaim his active lifestyle, becoming the first spinal cord-injured athlete to ski 80 miles in Antarctica's South Pole. Today, he is the emerging face of spinal cord recovery and heralds his message of choosing positivity through adversity so that we may all climb a mountain for someone we love.
Korgan chronicles his injury and road to recovery in "Two Feet Back," the first in a series of three autobiographies.
His South Pole expedition was filmed as part of noted director Steven Ziig's documentary "The Push: A South Pole Adventure." Korgan's challenge was intended to help raise money for the California-based nonprofit High Fives Foundation, which helps injured winter athletes recover and get back to their sport. It also supports the Reeve Irvine Research Center, a science research facility at the University of California-Irvine devoted to the study of the repair, regeneration, and recovery of function after spinal cord injury.
Most recently, Korgan launched a childhood obesity awareness campaign, for which he plans on climbing Yosemite's Half Dome along with a group of children selected through a video contest.
In enthralling multimedia presentations, Grant Korgan plunges his audience into his skiing, snowmobiling, and kayaking expeditions by sharing multi-angled, HD footage of his various experiences - including his fateful snowmobile accident. His keynotes are universally applicable to all individuals and organizations - from healthcare professionals to athletes to corporations - inspiring all to believe in the enduring power of the human spirit. "We are all survivors," Korgan says. "Although my body has been broken, my spirit never will be."
Speech Topics
---
Finding Your True North: Possibility Through Positivity
While speaker Grant Korgan's story is one of overcoming a significant challenge, his message isn't about obstacles. It's about deciding what you want in life, focusing on what is working, and always choosing positivity through adversity. These are Korgan's "Three Points of Possibility" - the keys to meeting adversity head on and overcoming it joyfully.
Teams and corporations across the nation find Korgan's outlook and inspiring words invaluable in achieving focus, endless drive, and motivation. With an emotional, uplifting presentation style that is at once inspirational and grounding, Korgan's words will impact listeners on many levels. Audiences will appreciate his choice to turn physical and emotional adversity into positivity and his words will have an incredible impact on individuals and teams as they strive to meet their own challenges. As Korgan says, "It's not about what I've done ... It's about what I'm going to do."
Standing in Your Truth: The Goosebumps of Life
In this presentation, speaker Grant Korgan challenges his audience to picture the thing, place, person, or idea that excites them the most - something that, if it were to happen or appear right then, might just cause them to jump up and show off their best dance moves. If they do it right, Korgan says, they should notice goosebumps on their arms. These, he says, are the goosebumps of life.
In this keynote, Korgan empowers his audience to listen to their inner voice, follow their passion, and consciously choose the direction they want to go in life every single day. By feeling the goosebumps of life, success will always come.
Two Feet Back: My Extraordinary Journey of Recovery
Determined to not change a single goal of the past, the Korgans embarked on an unconventional, activity-based recovery plan that bucked the prognosis that Grant Korgan's long-cherished independence was gone forever. With a "glass-half-full" mentality, a rock-solid determination to overcome the challenge before him, and the constant support and love of his wife Shawna, Korgan began an extraordinary journey of recovery, the first year of which inspired his first book, "Two Feet Back." Fueled by a lifelong desire to make a positive impact on the world, Korgan now shares his inspiring words of empowerment and positivity to audiences around the country. His story of survival, love, endless gratitude, and the limitless power of positivity is one that applies to us all. Korgan says, "It's about living big, remembering and finding the greatness that lies within all of us, and living the highest version of yourself regardless of your circumstances."
Caregiving: The Greatest Gift
Grant Korgan's wife Shawna is his soul mate, his "true North," and as Korgan likes to say, "This is a woman who stood by her man in a time when her man couldn't stand for himself." In this inspirational presentation, Grant and Shawna discuss the world of giving, the concept that we are greater than our own understanding, and the idea that being of service to another human being is the greatest gift we can ever receive.
Books
---
Related Speakers View all
---
Neal Petersen

History-Making Extreme Adventurer, Award-Winning Aut...

Chris Herren

Former NBA Player & Speaker on Substance Abuse Disor...

Juan Williams

New York Times Best-Selling Author, Fox News Politic...

Warren MacDonald

Adventurer, Author & Motivational Speaker; Double Ab...

Montel Williams

Emmy Award-Winning Talk Show Host Best Known For "Th...

The Three Doctors

Role Models; Authors; Civic Leaders

Wes Moore

CEO of Robin Hood Foundation, Best-Selling Author & ...

Geoffrey Canada

Inner-City Youth & Education Advocate

Dan Buettner

National Geographic Writer, Renowned Explorer & Auth...

David Breashears

Everest Adventurer, Filmmaker & Senior Lecturer at M...

John Zogby

Trendspotter & Leading Pollster

Alexandra Cousteau

Environmental Activist, Storyteller & Ocean Advocate

Mariane Pearl

Widow of Journalist Daniel Pearl

Caitlyn Jenner

TV Personality, Olympic Gold Medalist & Iconic Trans...

Peter Hillary

Adventurer / Entrepreneur / Author

Bob Costas

Award-Winning Sportscaster, Broadcaster & Best-Selli...

Ray Zahab

Ultra-marathon Runner and Adventurer; Host, "The Pro...

Mike Schlappi

Paralympic Medalist

Susan L. Taylor

Founder & CEO, National CARES Mentoring Movement & E...

Robert Ballard

Renowned Ocean Explorer & Scientist
More like Grant