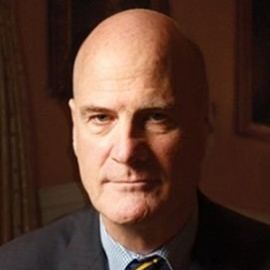 Grant McCracken
Author & Cultural Anthropologist
Grant McCracken is a cultural anthropologist. He holds a PhD from the University of Chicago. He is the author of 12 books including most recently Culturematic, Flock and Flow, and Dark Value. His new book A New Honor Code will be published by Simon and Schuster in January 2021. He is the founder of the Institute of Contemporary Culture at the Royal Ontario Museum. Grant has taught at Harvard, University of Cambridge, and MIT. He is a co-founder of the Artisanal Economies Project. He is the inventor of The Griff, an early warning system for social and cultural change. He consults widely, including Google, Ford Foundation, Kanye West, Netflix, Sony, Coca Cola, Sam Adams, Boston Book Festival, Oprah, PBS, State Farm, NBC, Diageo, IBM, Nike, and the White House. He is the winner of the Silver Anvil Award from the Public Relations Society of America for his work with Netflix. He is credited with spotting the rise of Donald Trump, the fall of Second Life, and the disruption of CPG by Alice Waters and the artisanal movement. His performance piece the Automated Anthropologist was covered by The New Yorker. With Mitch Hurwitz and Wired magazine, Grant helped create what AdAge calls the "Snow Fall" of native advertising for Netflix. Malcolm Gladwell has called his work "brilliant."
Videos
---
Speech Topics
---
Chief Culture Officer
This talk comes from Grant McCracken's award winning book of the same title. The ability to understand and act on culture is becoming the corporation's new competitive advantage. Some corporations do it well: Nike, Apple, Starbucks. Others have done it badly. It is time for the corporation to improve its game, to get as good at culture as it is at management, finance, human capital and technology. Culture is our "last mile," the core competence the corporation must master now to flourish in the world. This talk is filled with many great examples and how tos.
10 Tools: How to Build Brands in a Digital World
The digital revolution is changing what the consumer wants from the brand. We are beginning to see that brands and consumers can work together, in the creation of new content and value, in new acts of collaboration. It's time for brands to dive into the digital revolution. The opportunities are astounding.
Financial Marketing: Climbing the Value Hierarchy
Looks at the big problems that interfere with marketing for capital markets. Specifically, it looks at three generations of this marketing: 1) the early days, 2) best practice right now and 3) what the future holds. Financial services have been perhaps the most challenging area of marketing. Consumers are often confused, innumerate and frightened. But this means there are tremendous opportunities for those prepared to break with the old paradigm and embrace a cultural approach.
How I Almost Lost Control of my Bladder on the Oprah Winfrey Show
American culture is more and more a celebrity culture. But we don't really understand why celebrities matter so much to us, and this means that the corporation has much to learn here. (The art of celebrity endorsement is particularly terrible.) This talk is about what our love of celebrities says about us as a culture, and how we can turn this knowledge to our advantage in the marketplace.
Related Speakers View all
---
Tim Sanders

Bestselling Author, Technology Pioneer, Expert on Co...

Richard Florida

Leading Urbanist, Economist & Author of "The Rise of...

Seth Mattison

Co-Founder & Chief Movement Officer of Luminate Labs...

Watts Wacker

Futurist & Commentator

Gary Hamel

Internationally Renowned Expert on Business Strategy...

Ryan Estis

Business Performance Expert & Agent of Change

Daniel Burrus

Technology Futurist, Business Strategist & Hall of F...

Don Peppers

Marketing and Sales Futurist; Customer Experience Th...

Tom Morris

American Philosopher; Corporate Advisor; Best-Sellin...

Doug Lipp

Former Head of Training at Walt Disney University & ...

Dr. Kevin Freiberg

World-Wide Best-Selling Author, Speaker & Advisor

Dr. Jackie Freiberg

Corporate Culture & Leadership Strategist, Best-Sell...

Jim Cathcart

Sales & Marketing Hall of Fame Speaker

Jim Carroll

One of the World's Leading Global Futurists, Trends ...

Dan Ariely

Behavioral Economist; Professor at Duke University; ...

Avi Rubin

Professor of Computer Science & Technical Director o...

Kevin Allocca

Head of Culture & Trends at YouTube

Robert Tucker

Business Futurist, Innovation Expert & Best-Selling ...

Robert Kriegel

Expert in Sports & Performance Psychology

Erik Qualman

Top Digital Transformation Expert, Futurist & Bestse...
More like Grant