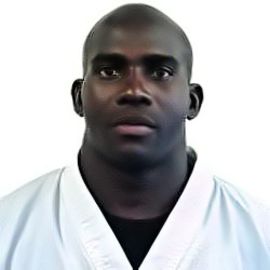 Greg Lloyd was named to five Pro Bowls and 3 NFL All-Pro teams during his career.
He was injured his first year but became a starter during the 1989 season at linebacker where he excelled. He became the leader of the Steelers defense after the retirement of inside linebacker David Little. Lloyd teamed with cornerback Rod Woodson to give the Steelers two of the most dynamic and dominating defensive players in the game. Both Lloyd and Woodson were drafted in 1987 by then Steelers coach Chuck Noll.
Lloyd remained the starter through the 1997 season and was named to five Pro Bowls and 3 NFL All-Pro teams during this time. Lloyd left the Steelers in 1998 and played for the Carolina Panthers before retiring. He missed most of the 1996 season due to a knee injury sustained on opening day at Jacksonville. A true leader and student of the game, Lloyd continued to impact the Steelers defense while injured from the sideline by teaching young linebackers Chad Brown and Jason Gildon the finer points of Steelers linebacking tradition.
News
---
Learn From Master Greg Lloyd
The former Steeler linebacker, famous for his "I Wasn't Hired for My Disposition" and "Real Men are Black" t-shirts, is a 4th-degree instructor at Oh Do Kwan Martial Arts, topped only by the one and only Master Joaquin Bonilla (no relation to Bobby) in the Oh Do Kwan hierarchy.
Related Speakers View all
---
Joey Porter

The paychecks to play football certainly aren't smal...

Mel Blount

A third-round draft choice of the Pittsburgh Steeler...

Kevin Greene

Kevin Darwin Greene (born July 31, 1962 in Schenecta...

James Harrison

James Harrison was born May 4, 1978, in Akron, Ohio ...

Levon Kirkland

NFL player.

Jack Lambert

Steeler linebacker Jack Lambert is not known as a sw...

Dermontti Dawson

ermontti Dawson, a second round draft pick by the Pi...

John Stallworth

Pittsburgh Steelers Hall of Fame Receiver, Business ...

Jack Ham

Former NFL Steeler and All-America at Penn State; Co...

Rod Woodson

Oakland Raiders Cornerbacks Coach; Former NFL Player

Rocky Bleier

Former NFL Football Player, Wounded Vietnam Veteran ...

Louis Lipps

Former NFL Wide Receiver; Nine-Season Career

Carnell Lake
Les Richter

Richter played both offensive guard and linebacker f...

Ed Sabol

NFL Films grew out of a hobby for Ed Sabol.

Bob Harlan

Bob Harlan, the Green Bay Packers' chairman emeritus...

Ron Wolf

First, he watched his former team return to the top ...

Fuzzy Thurston

Fred "Fuzzy" Thurston, who played guard in the first...

Frank Winters

Favre is scheduled to induct longtime teammate and f...

Zeke Bratkowski

Bratkowski began his playing career at Schlarman Hig...
More like Greg