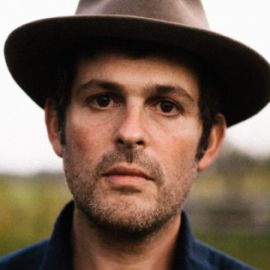 Gregory Alan Isakov is an indie-folk singer-songwriter whose songs hone a masterful quality beyond his years and tell stories of miles and landscapes and the search for a sense of place.
His songcraft lends to the deepest lyrical masterpieces, with hints of his influences, Leonard Cohen and Bruce Springsteen. He has been described as strong, subtle, a lyrical genius, but the source of his writing often remains a mystery to him. Isakov's humble presence and his overwhelming voice and guitar style are treasured by an ever-growing and captivated fan base.
Born in Johannesburg, South Africa, Isakov immigrated to the States with his family and grew up in the Philadelphia area. He started touring at the age of 16 with his first band. In 1999, he sought out his solo acoustic roots and moved to Colorado where he now resides. Isakov has been taking on the folk music scene with his 2003 release "Rust Colored Stones" LP and his 2005 release "Songs For October."
Isakov has shared the stage with numerous touring artists such as Rodrigo y Gabriela, Alexi Murdoch, and Fiona Apple. He has performed throughout the United States, playing numerous music festivals such as Falcon Ridge Folk Fest, Rocky Mountain Folks Fest, and Southpark Music Festival. Isakov has toured solo and with his band, The Freight.
Subsequent albums have included That Sea, The Gambler (2007), This Empty Northern Hemisphere (2009), and The Weatherman (2013).
n 2016, Isakov released Gregory Alan Isakov with the Colorado Symphony, an album of eleven of his earlier songs orchestrated by several composers and recorded with the full Colorado Symphony. On October 5, 2018, Isakov released Evening Machines on his Suitcase Town Music label.
On November 20, 2019, Isakov's album Evening Machines was nominated for the Grammy Award for Best Folk Album in the 62nd Annual Grammy Awards.
Related Speakers View all
---
Greg Holden

Greg Holden is a New York-based British singer-songw...

Colin Meloy

Colin Patrick Henry Meloy is the lead singer and son...

Bon Iver

Grammy Award-Winning Indie Folk Band Created By Just...

Delta Spirit

American Indie Rock Band

Jeff Tweedy

Leader of the Band Wilco, Songwriter, Musician & Rec...

The Avett Brothers

American Band from North Carolina Known for "I and L...

Billie Eilish

Grammy Award Winning Singer-Songwriter Known for "wh...

Toby Sebastian

Toby Sebastian is a British musician and actor

Chance Anderson Band

Country Band; "Would It Kill You To Kiss Me"

The Wild Feathers

Rock 'n' Roll Band From Nashville

Dean Brody

Dean Brody is a Canadian country music artist. Origi...

Redlight King

Redlight King is the songwriting project of Mark Kas...

Peter Wolf

Peter Wolf is an American rhythm and blues, soul and...

Sasha

Welsh DJ and record producer

Adam Ockelford

Professor of Music at Roehampton University; Author ...

Billy Gaus

Founder / CEO SongCircle , a global support Communit...

Patty Griffin

Grammy Award-Winning Folk Singer-Songwriter

Graffiti6

Graffiti6 is a collaboration founded in London in 20...

Colin Macintyre

Colin MacIntyre is a Scottish singer, song-writer, m...

Chris Thile

Musician, Singer for "Nickel Creek" & "Punch Brothers"
More like Gregory