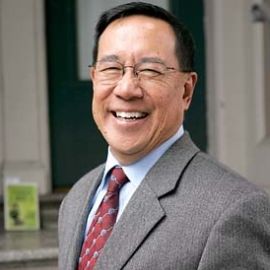 Gus Lee is an American author and ethicist. He was born in San Francisco, a place he recounts in his childhood memoir/novel "China Boy" about growing up in a broken, poverty-stricken immigrant family.
While a graduate and law student at University California, Davis, Lee served as an Assistant Dean of Students for the Educational Opportunity Program, project coordinator for Asian American Studies and ROTC Brigade Commander. He was an Army boxer, Army drill sergeant, paratrooper, Command Judge Advocate, U.S. Senate ethics investigator and legal adviser to the worldwide Connelly Investigation with tours in Asia. He became a multiple-event whistle blower, which involuntarily launched him into his work as an ethicist and character-based leadership consultant.
Lee worked as supervising deputy district attorney, acting deputy attorney general, FBI and law enforcement trainer, Deputy Director of the California District Attorneys Association. He was an adjunct leadership instructor at USC.
Lee recounts his life in autobiographical fiction. "Honor and Duty" describes the tension between integrity. "Tiger's Tail" recounts Lee's role as an Army criminal investigator pursuing enemy secret agents. "No Physical Evidence" is a legal thriller that recounts a difficult trial. Lee followed with a memoir, "Chasing Hepburn". His 2007 book "Courage: The Backbone of Leadership" describes the measurable behaviors of integrity and courage. He has contributed to anthologies, written for Time and Encyclopædia Britannica and written op-eds. The death of his West Point mentor, General H. Norman Schwarzkopf caused him to write "With Schwarzkopf: Life Lessons of the Bear", which recalls their relationship.
Videos
---