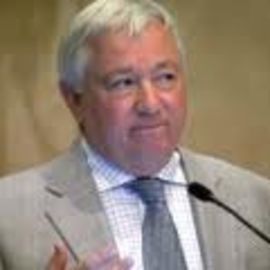 Guy Caruso
Senior Adviser
Guy F. Caruso is a senior adviser in the Energy and National Security Program at CSIS, having served as executive director of the CSIS Strategic Energy Initiative from 1998 to 2000. Prior to rejoining CSIS he served as administrator of the Energy Information Administration (EIA) from July 2002 to September 2008, EIA is the statistical agency within the U.S. Department of Energy (DOE) that provides independent data, forecasts, and analyses regarding energy. Before leading EIA, Caruso had acquired over 30 years of energy experience, with particular emphasis on topics relating to energy markets, policy, and security. He first joined DOE as a senior energy economist in the Office of International Affairs and soon became director of the Office of Market Analysis. Other leadership roles at DOE included director of the Office of Oil and Natural Gas Policy in the Office of Domestic and International Energy Policy and director of the Office of Energy Emergency Policy Evaluation. Prior to joining DOE, Caruso worked at the Central Intelligence Agency (CIA) as an international energy economist in the Office of Economic Research. In addition, before joining EIA, he was also director of the National Energy Strategy (NES) project for the U.S. Energy Association (USEA). During this time, he spearheaded the USEA publication Toward a National Energy Strategy, which was released in February 2001, and a follow-up study entitled National Energy Strategy Post 9/11, which was released in July 2002. In January 2008, he was awarded the French National Order of Merit.

Caruso has also worked at the Paris-based International Energy Agency (IEA), first as the head of the Oil Industry Division, where he was responsible for analyzing world oil supply/demand and developments in the oil industry, and later as director of the Office of Non-member Countries, where he directed studies of energy-related developments in emerging economies. Caruso holds a B.S. in business administration and an M.S. in economics from the University of Connecticut. He also earned an M.P.A. from Harvard University.

Speech Topics
---
ENERGY AND NATIONAL SECURITY
Related Speakers View all
---
David Pumphrey

Deputy Director and Senior Fellow, Energy and Nation...

Frank A. Verrastro

Senior Vice President and Director, Energy and Natio...

Daniel Esty

Hillhouse Professor of Environmental Law and Policy ...

Daniel Schnitzer

Daniel Schnitzer is the founder of EarthSpark Intern...

Pat Wood

Former Chairman of the Federal Energy Regulatory Com...

David Crane

Strategic Advisor Executive at Pegasus Capital Advis...

Sarah O. Ladislaw

Co-Director and Senior Fellow, Energy and National S...

Jeffrey Mankoff

Deputy Director and Fellow, Russia and Eurasia Program

Jeffrey P. Pellegrino

Military Fellow, International Security Program

Luis E. Giusti

Senior Adviser

Edward C. Chow

Senior Fellow, Energy and National Security Program

Scott Aughenbaugh

Deputy Director, Strategic Futures, CSIS

Anthony H. Cordesman

Arleigh A. Burke Chair in Strategy

Rob Harmon

President and CEO of EnergyRM

Doug Fine

Globe-Trotting Journalist, Award-Winning Climate Cor...

Jane Burston

Director at Clean Air Fund & Member of the Global Fu...

Bruno Sánchez-Andrade Nuño

PhD, Data Scientist at World Bank Group, Young Globa...

Matthew Kahn

Professor of Economics, UCLA Institute of the Enviro...

Dr. Ralph Cicerone

President, National Academy of Sciences

Tom Steyer

California Business Leader; Philanthropist and Clean...
More like Guy