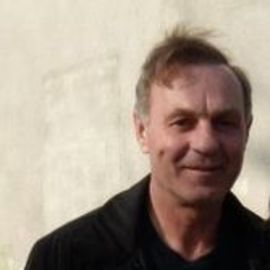 Guy LaFleur
Guy Damien Lafleur, the Flower, had a 17-year NHL career spanning two decades, from 1971 until 1991.
He spent the first 14 years with the Montreal Canadiens, followed by a three-year retirement, and then he came back to skate with the New York Rangers for one season and the Quebec Nordiques for two.
Known as one of the greatest right wingers ever to play the game and one of the most exciting offensive players of all time, Lafleur was also known as "le Demon Blond" (the Blond Demon) for his long hair, wild rushes down the ice and booming shot.
Although he is best known for his glory years with Montreal, he only ended up with the Habs because they had arranged a complicated series of deals with the California Golden Seals to get the Seals' first draft pick in 1971 and used it to pick Lafleur from the Quebec Remparts of the Quebec junior league. Scouts had been watching Lafleur as he led the Remparts to the Memorial Cup in 1971, and Montreal GM Sam Pollock was keen on ensuring Lafleur wound up in a Montreal sweater.
When Lafleur came to the Canadiens, Jean Beliveau, who'd retired that very spring, offered to give him his number 4 sweater. It was the same number Guy had worn while dominating the Quebec junior league. But daunted by the expectations that wearing that number would bring, Guy politely declined and took the number 10 shirt instead.
As a child, Lafleur was so in love with hockey that he used to sneak into the arena in his hometown of Thurso, Quebec, early on Sundays and weekday mornings to get extra ice time when no one else was around. He also slept in his hockey equipment to make his trip to the arena in the morning easier. "When I was a kid, all we saw on TV was the Canadiens, and all I wanted to be was Beliveau. We had one bleu, blanc et rouge Canadiens sweater and I fought the others for the right to wear it. I dreaded to be drafted by any other team but the Canadiens, and when they took me I was so happy. If any other team had taken me, I would have signed with the Quebec team in the other league [the Nordiques, who were then in the WHA]. But the Canadiens had the greatest tradition in hockey and it was my dream to play for them."
Lafleur joined the Montreal Canadiens the very fall he was drafted and became the first player in NHL history to score at least 50 goals and 100 points in six consecutive seasons. When asked about developing his talent from a young age up to that of a consistent 50-goal scorer, Lafleur said: "I think it was always there and it was maybe a matter of bringing it out. It was harder than I thought it would be and I had to try harder. I had to regain my confidence, maybe the most important thing. I have learned a lot to relax. I know what I can do now, and I do it."
Lafleur was a First Team all-star in all six of those consecutive 50-goal seasons and won the scoring title three times, the Hart Trophy twice and the Conn Smythe Trophy once. He has the highest career point and assist totals in Montreal history, as well as the second-highest goal total behind Rocket Richard. And when Lafleur reached the 1,000-point mark, he did it in just 720 games, the shortest time taken to hit that milestone in NHL history. After that, he concluded: "I'm not going to say that now that I have 1,000 points I can sit down and relax. I've got five or six years to go and I can shoot for more."
Sportswriter Bill Libby said that Lafleur "typifies what is best about this sport. He is an artist on skates, creating scoring plays the way a painter puts a vivid scene on a canvas with a brush. His start is explosively quick and his stride is swifter than the others. He sees where his opponents and teammates are and anticipates where they will be. He is a spectacular athlete in a spectacular sport and it is wonderful watching him work."
During his 14 years with the Canadiens, Lafleur and his teammates won the Stanley Cup five times. After Montreal won the Stanley Cup in 1978, he borrowed it for the weekend without telling anyone to show his friends back home in Thurso. Lafleur boldly displayed it on his front lawn for all his neighbors to see!
In the late 1970s, Lafleur became a television star in Canada, doing commercials for a wide range of products including Yoplait yogurt, Shasta pop, Koho hockey sticks, Bauer skates, cars and a line of school supplies. For many fans, this was a bit odd, for the chain-smoking Lafleur had always been very shy of the media during interviews. "Guy has charisma for the English and in Quebec," explained his agent, Jerry Petrie. "He's almost a Beliveau." It was also rumored that in 1976 Lafleur's game in the playoffs was affected by hearsay that there was a plot to kidnap him for ransom.
Then came a turning point in Lafleur's life. After a night of partying with teammates in 1981, he was involved in a serious car accident and later admitted it changed his life. "I decided to slow down after that," said Lafleur. "I realized that my family was more important to me than downtown night life. The crowd doesn't give a crap as long as you bring the money in. When trouble comes, it's your family that supports you."
To sum up what Lafleur meant to hockey, teammate Serge Savard said: "Guy Lafleur is the best. He was made for this game." Another Canadien, Steve Shutt, saw Lafleur in a different light. "He was strange. I mean, any guy who would be in his hockey uniform, skates tied tight, sweater on and a stick beside him at 4 o'clock for an 8 o'clock game has to be a little strange. But on the ice he played 100% on instinct and emotion."
Lafleur played 19 games at the start of the 1984-85 season but had only two goals in those games. It was then he decided to retire. In front of 18,000 fans at the Montreal Forum, he took one last skate around the ice and the crowd gave him a five-minute standing ovation. "After 13 years, I couldn't accept to be number two. I'm proud of what I did in the past and I'm proud I played for the Canadiens, especially on five Stanley Cup winners. I was in a slump and I wasn't scoring much at the time. I was frustrated."
But even when Lafleur wasn't in top form, he could still command respect from opponents and admiration from his fans. "Even when Guy wasn't at his best, when he got the puck and got into full flight," explained teammate Larry Robinson, "the fans were out of their seats when he went flying down the wing."
Brian O'Neill, NHL executive vice-president, said: "I don't believe any other player has come down in the past 12 years who could lift fans out of their seats like Rocket Richard. Guy Lafleur did that. He was a great one, and to us in the NHL, he symbolized how the game should be played. We are certainly going to miss him." Lafleur was joined in the on-ice ceremony by his parents, his wife, Lise, one of his two sons and Iva Baribeau his landlady when he played with the Quebec Remparts.
Lafleur became the sixth Canadien to have his sweater number retired after Jacques Plante, Doug Harvey, Jean Beliveau, Howie Morenz and Maurice and Henri Richard. He was in tears as team president Ronald Corey presented him with the number 10. Journalist Red Fisher commented: "Everybody knew that he represented something special as a maker of excellence on the ice. What not enough people are aware of is his decency off the ice. In all the years I've covered the Canadiens, I don't think any one of the teams had more rapport with or respect from fans in the other cities. The respect and reaction of out-of-town fans was almost surprising as if they felt that Guy belonged not only to the Canadiens but in large part to them as well."
Retiring as a player at age 33, Lafleur went into a front-office position with the Canadiens. "I'm leaving the ice, but I want everybody to know that I'll never leave the sport." But his time with the Canadiens front office was short. Lafleur called the $75,000 they were offering him "clerk's pay."
But he was right about not leaving the game. In 1988 he was inducted into the Hockey Hall of Fame, but he believed he could still play and his love for the game hadn't diminished. He signed with the New York Rangers and played one year there, scoring 18 goals and getting 27 assists in 67 games, thus becoming only the second player after Gordie Howe to play in the NHL after being inducted into the Hall of Fame. He helped the Rangers to first place in the Patrick Division until a knee injury knocked him out of the lineup at mid-season. Then in 1989 Lafleur followed his good friend and coach Michel Bergeron from the Rangers to the Quebec Nordiques, reportedly turning down a $1 million offer from the L.A. Kings. "It was a very pleasant year in exile in New York," remarked Lafleur, "but now I would like to end my career in Quebec, where it began."
When it was suggested he be named co-captain of the Quebec Nordiques, Lafleur laughed. "The day you hear someone call me captain will be the day I buy a boat. Anyway, I've never been captain in 16 years in the NHL. But that didn't stop me being a leader in my own way." Two years later he retired from the ice once again and took another front-office job in Montreal. Lafleur's sage advice in his farewell speech after retiring for good with Quebec was this: "Play every game as if it is your last one."
Related Speakers View all
---
Larry Robinson

Larry Robinson was only the 20th player selected ove...

Jean Beliveau

He made his career as a strong skater and was hard i...

Henri Richard

Henri Richard was a great hockey player who played w...

Mario Lemieux

Canadian Former Ice Hockey Player; Owner and Chairma...

Gordie Howe

Mr. Hockey

Wayne Gretzky

Legendary Hockey Player & Founder of the Wayne Gretz...

Marcel Dionne

Marcel "Little Beaver" Dionne was born on August 3, ...

Mike Bossy

NHL Hockey Hall of Fame Player, TV Analyst

Yvan Bayisabe

Student,ungdomsfabrikken "Youth Fabric"

Bobby Gordon

Bobby has advised, implemented and developed program...

Ken Dryden

Canadian Politician and a member of the Hockey Hall ...

Patrick Roy

Patrick Roy was born on October 5, 1965 in Quebec Ci...

Bobby Hull

Former Ice Hockey Player, Known as "The Golden Jet"

Phil Esposito

He was the centerman who held the greatest scoring r...

Keith Carney

Former NHL defensiveman who played for the Chicago B...

Jason Chimera

Left Wing for the Washington Capitals of the NHL

Viren Rasquinha

CEO of Olympic Gold Quest; Former Captain of the Ind...

Marty Turco

Former Professional Ice Hockey Goaltender

Phil Bourque

Former Ice Hockey Player for the Pittsburgh Penguins...

Ken Wregget

Ken Wregget is a former Pittsburgh Penguins goalie, ...
More like Guy