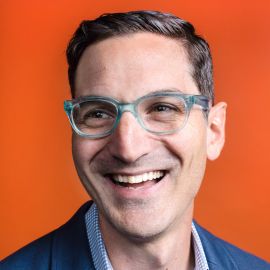 Guy Raz is an acclaimed radio and podcast personality and creator of the popular podcasts "How I Built This" and "TED Radio Hour," which have found a consistent home on the top charts.
"TED Radio Hour" takes listeners on a journey through the world of ideas. Each week, the world's greatest thinkers, scientists, artists, and visionaries join Raz for an exploration into the common experiences that make us human. "How I Built This" is a podcast about the greatest innovators, entrepreneurs, and idealists, and the stories behind the movements they built. Raz is also the creator of NPR's first-ever podcast for kids, "Wow in the World," as well as Spotify's "The Rewind."
His shows are heard by more than 19 million people each month around the world. "How I Built This" and "TED Radio Hour" have both been named top podcasts by Apple Podcasts. In 2017, Raz became the first person in the history of podcasting to have three shows in the top 20 on the Apple Podcast charts.
Previously, Raz was weekend host of NPR News' signature afternoon newsmagazine "All Things Considered." During his tenure, he transformed the sound and format of the program, introducing the now-signature "cover story" and creating the popular "Three-Minute Fiction" writing contest.
Raz joined NPR in 1997 as an intern for "All Things Considered" and has worked virtually every job in the newsroom from temporary production assistant to breaking news anchor.
In 2000, at the age of 25, Raz was made NPR's Berlin bureau chief where he covered Eastern Europe and the Balkans. During his six years abroad, Raz covered everything from wars and conflict zones to sports and entertainment. He reported from more than 40 countries on the wars in Iraq, Afghanistan, Macedonia, and the ongoing conflict in Israel and the Palestinian territories.
Raz also served as NPR's bureau chief in London, and between 2004 and 2006 he left NPR to work in television as CNN's Jerusalem correspondent. During this time, Raz chronicled everything from the rise of Hamas as a political power to the incapacitation of Israeli Prime Minister Ariel Sharon and Israel's 2005 withdrawal from the Gaza Strip. In 2006, Raz returned to NPR to serve as defense correspondent where he covered the Pentagon and the US military.
For his reporting from Iraq, Raz was awarded both the Edward R. Murrow Award and the Daniel Schorr Journalism Prize. His reporting has contributed to two duPont Awards and one Peabody awarded to NPR. He's been a finalist for the Livingston Award four times. He's won the National Headliner Award and an NABJ award, in addition to many others. In 2008, he spent a year as a Nieman Journalism Fellow at Harvard University, where he studied classical history.
He has also served as a Ferris Professor of Journalism at Princeton University, a Shapiro Fellow at George Washington University, and an adjunct professor of journalism at Georgetown.
Speech Topics
---
How Creativity Works
A talk that digs deep into the science of creativity
Lessons from the Greatest Entrepreneurs in the World
A talk based on lessons learned from interviewing hundreds of the most successful entrepreneurs in the world.
Fatherhood in the Modern Age
A talk about what it means to be a father today and why dads are fighting to play a greater role in the lives of their children.
So You've Just Graduated College. Now What?
A talk about the difficult choices we face as we enter early adulthood and a new life without a safety net.
Economic Recovery from the COVID-19 Pandemic
Related Speakers View all
---
Marc Randolph

Entrepreneur, Netflix Co-Founder, National Best-Sell...

Daymond John

"Shark Tank" Investor; Founder & CEO of FUBU; Presid...

Guy Kawasaki

Chief Evangelist of Canva & Executive Fellow of the ...

Uri Levine

Entrepreneur & Co-Founder of Waze

Josh Linkner

Five-Time Tech Entrepreneur; Hyper-Growth CEO; NY Ti...

Ray Kurzweil

Chairman of Kurzweil Technologies; Inventor; Futurist

Randi Zuckerberg

CEO & Founder of Zuckerberg Media; Bestselling Autho...

Seth Godin

Business & Marketing Expert & New York Times Bestsel...

Peter Diamandis

Founder & Executive Chairman of the XPRIZE Foundatio...

Barbara Corcoran

Real Estate Entrepreneur, Angel Investor, Author & C...

Steve Wozniak

Co-Founder of Apple Computer, Inc.

Dr. Michio Kaku

World-Renowned Futurist & Theoretical Physicist

Sallie Krawcheck

Founder & CEO of Ellevest; Author of "Own It: The Po...

Jennifer Hyman

Co-Founder & CEO of Rent the Runway; Award-Winning E...

Jason Silva

Emmy-nominated TV Personality; Futurist; Host of Nat...

Shawn Achor

Harvard Professor, Researcher, Positive Psychology E...

Alexis Ohanian

Co-Founder of Initialized Capital & Co-Founder of Re...

Gary Vaynerchuk

Co-Founder & CEO of VaynerMedia

Simon Sinek

World-Renowned Leadership Expert & Best-Selling Author

Lisa Ling

Executive Producer & Host of This is Life on CNN
More like Guy