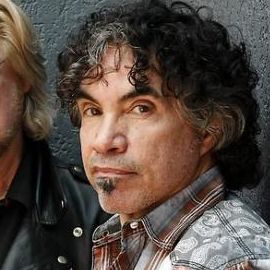 Hall and Oates
One of the Most Successful Commercial Musical Duos of the 1970's
Daryl Hall and John Oates started working together in the early 1970's and went on to become the most successful duo in rock history.   Meeting in a freight elevator while escaping a riot at the Aldephi Ballroom during the club's legendary Battle of the Bands, Daryl and John would join forces to become the pioneers of Rock & Soul. With over 60 million albums sold, DARYL HALL & JOHN OATES' rich repertoire has garnered a total of 8 #1 hit singles along with dozens of hits throughout the 70's, 80's, 90's, including 2002's "Do It For Love,". Other top singles include:  "Rich Girl," "Kiss On My List," "Maneater," "Private Eyes," "I Can't Go For That (No Can Do), "Sara Smile," "She's Gone," and  "One On One,". Their trademark sound of rock 'n' soul can be heard in the harmonies of today's young pop stars, in the return to radio of sophisticated R & B, even in the black/white demographics of hip-hop and rap-rock fusion.
In 1997, realizing the direction that the music industry was headed, Daryl and John released Marigold Sky on their own label. Taking a break to work on solo projects, the duo would not record and release new material until 2002's critically acclaimed Do It for Love. The album's title song went to number 1 on the Billboard and R&R's Adult Contemporary charts and remained there for 4 consecutive weeks. Their latest album, Our Kind Of Soul, featured timeless classics as well as new material that borrowed from their Philadelphia roots. The duo are currently recording their first ever Christmas album due in stores Fall 2006.
As quoted by contributing Rolling Stone Editor and host of Bravo's Musician Series, David Wild when describing VH-1's Behind The Music: The Daryl Hall & John Oates Collection, "their story and legacy is less about their 'familiar smashes' but more about the distinctive, rock and soul these two brought to a new generation of music fans who didn't know their Four Tops from their The Three Degrees".  From Abandoned Luncheonette to Voices to H2O to their current material, Daryl Hall and John Oates will be remembered for generations to come because of the spontaneity, emotion and human connection that they bring to each and every one of their musical collaborations.
Related Speakers View all
---
Kansas

American Rock Band Known for "Carry On Wayward Son"

Mumford and Sons

English Folk Rock Band; "The Cave," "Little Lion Man...

Will Smith

Actor & Producer Known for "Fresh Prince of Bel-Air,...

Ed Sheeran

English Singer-Songwriter Known for "Thinking Out Lo...

Paul McCartney

Former Member of The Beatles; One of the Most Succes...

One Republic

American Pop Rock Band

New Kids on the Block

American Boy Band; Known for "Step by Step" and "Han...

Earth Wind and Fire

One of the Most Successful and Critically Acclaimed ...

Josh Ostrovsky

Social Media Celebrity & Comedian Best Known as "The...

Apollo Robbins

Sleight-of-Hand Artist and Self-Described Gentleman ...

Billie Eilish

Grammy Award Winning Singer-Songwriter Known for "wh...

Jenelle Evans

Reality TV Personality, Best known For MTV's Teen Mo...

Eric Close

American Actor; Known for his role in ABC's "Nashville"

Kevin Viner

Mentalist, Musician & Comedian

Ian Mackaye

Musician and Co-Founder of Dischord Records; Best Kn...

Teddy Afro

Teddy Afro is an Ethiopian singer and one of the mos...

Bill Prady

Co-Creator and Executive Producer of The Big Bang Th...

Tom Postilio

Founding Member of CORE & Star of the HGTV Reality T...

Mickey Conlon

Real Estate Broker; Known For HGTV's "Selling New York"

The Willis Clan

Family of Musicians Featured on "America's Got Talen...
More like Hall