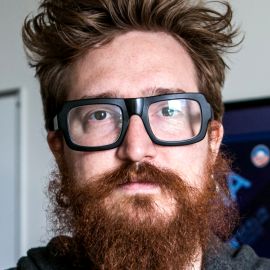 Harper Reed is a technologist that predicts the future for a living. He spends his life traveling around the world showing people the possibilities of tech and sharing his experiences to propel the greater good, all while raising the level of fun in the room.
Reed knows his incredible luck has led him to achieve many wonderful things. At PayPal, his roles as Head of Commerce and as an Entrepreneur-in-Residence allowed him to guide teams into the thrilling future of e-commerce. The technology he developed as co-founder at startup Modest Inc. had initially garnered the attention of PayPal, which led them to acquire Modest only a few years after launch.
Reed also believes the talent of a great bunch of humans can transform an organization like nothing else and he uses that belief to strengthen, deploy, and inspire every team he works with. Previously, Reed was CTO of the Obama 2012 campaign, where he was the first to bring the mentality and connective capabilities of tech to the political stage. He was also the CTO of Threadless.com, where he pioneered crowdsourcing and grew the company from a 12 person startup to a multi-million dollar enterprise. Reed is an MIT Media Lab Director's Fellow, sits on the advisory boards for IIT Computer Science and the Royal United Service Institute, and is on the Cornell College Board of Trustees.
You can find Reed hacking on personal projects and enjoying life in Chicago with his partner, Hiromi and their beautiful and bizarre poodle, Lulu.
Speech Topics
---
Chief Technology Officer at Obama for America
Related Speakers View all
---
Josh Linkner

Best-Selling Author; World-Class Entrepreneur; Found...

Pablos Holman

Technology Futurist, Inventor & Hacker

Rod Beckstrom

Cyber Security Expert, Internet Leader & Authority o...

Brian Krebs

Leading Cybercrime Journalist & New York Times Bests...

Jack Shaw

Corporate Financial Executive, Software Company Exec...

Jason Silva

Emmy-nominated TV Personality; Futurist; Host of Nat...

Jeff Hoffman

Serial Entrepreneur, Author & Producer

Alex Salkever

Futurist, Author of "The Driver in the Driverless Ca...

Eric O'Neill

Cyber-Security Expert; Inspiration for the Film "Bre...

Luke Williams

Bestselling Author, Professor of Business at NYU

Trent Lapinski

Entrepreneur, Tech Executive, Growth Hacker, Busines...

Dr. Eric Cole

Technology Visionary & Security Expert

Bill Rancic

"The Apprentice" Winner; Entrepreneur; Star of "Giul...

Daniel Kraft, M.D.

Physician-Scientist; Founder of Exponential Medicine...

Terry Jones

Chairman at Wayblazer, Founder of Travelocity.com & ...

Ben Pring

Widely Acknowledged IT Futurist & Thought Leader; Co...

Keren Elazari

Cyber Security Analyst, Author & Researcher

Jim McKelvey

Co-Founder of Square, Serial Entrepreneur, Inventor,...

Peter W. Singer

Technology and Cyber Security Futurist

Grant Imahara

Electronics & Radio Control Expert, Former Host on D...
More like Harper