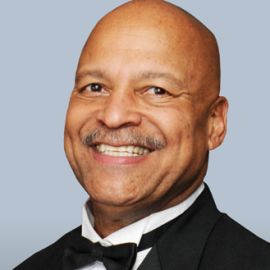 Harvey Alston
Educator & Motivator
Considered one of the most dynamic, "high octane" speakers in America, Harvey Alston has been a full-time speaker since 1989. He has spoken to millions of people throughout the United States who have benefited not only from his knowledge, but also from the wisdom that Alston brings to the finish line.
His unforgettable words of individual responsibility for achievement have improved spirits, spurred growth and changed lives. His powerful, soul-searching presentations uplift audiences to a higher standard and to a level where they strive only for the best. Harvey Alston believes in solitary achievement, shared accomplishment and the dignity of human beings.
As one of the most in-demand speakers in America, Harvey Alston's career has spanned positions from head football coach of Columbus East High School in Ohio in 1968, to assistant director of student financial aid at the university level. As an educator, he's taught English, biology, health, life sciences and math curricula. Over the years, Alston has received recognition and awards from such diverse groups and organizations as the Ohio House of Representatives as one of Ohio's Finest Citizens, the City of Columbus declared a Harvey Alston Day and he was commissioned a Kentucky Colonel and has received numerous national recognitions and awards. However, none has more impact than the response from those individuals whose lives have been dramatically changed. People walk away from Alston's presentations knowing they have just heard someone who "has been around the track a few times" and one who shares it in a way that people do not forget.
Harvey Alston's enterprise is called Best Inc., based on his philosophy and his book, titled Be the Best. He is the Coordinator for the Ohio High School Athletic Association Student Leadership Conferences, a contributing writer and photographer for the Highland Lakes Monthly Magazine, member of the National Speakers Association and serves on the advisory board to the Olentangy School District, the Upper Valley Joint Vocational School and many civic boards, panels and commissions.
Videos
---
Speech Topics
---
Be the Best
Alston has taken his personal, proven message "Be the Best" to literally millions of people. His unforgettable words of individual responsibility for achievement have improved spirits, spurred growth, and changed lives. By developing effective strategies to become the best, specific techniques to be more effective as leaders, methods for developing goal-setting strategies, team dynamics, enhanced communication and listening skills, all organizations can "Be the Best." Alston powerful, soul-searching presentation uplifts people to a higher standard, to a level where people strive only for the BEST.
Customer Service- S.O.U.L. "Service On Unbelievable Levels"
Alston will develop strategies for the BEST customer service by planning the future of your employees. He will research different delivery styles of successful businesses that have an understanding of what it takes to motivate employees. After identifying what the organization has done to improve their service, Alston will collaborate with the audience to make a plan to change everyone's vision.
Practical Parenting
Alston will discuss ways to "Know Your Child's Interests," "Using TV Wisely," "ABC's of Parenting," "Advice for Living with Pre-Teens," "Parents Watch Your Language" and "Discipline, a Preventative Force."
Competent Communication
This program will build your communication skills, enhancing skills for listening and identifying the obstacles to effective listening. Participants will be involved in adapting to communication with social context and adjusting the physical context of symbolic functional dimensions. Alston will develop strategies for public group communication with active knowledge of verbal and nonverbal communication.
Climbing the Rough Side of the Mountain
This program is a highly interactive, firm and spirited search for solutions. It is meant to provide a variety of educational experiences through the delivery of subjects on the cutting edge of team leadership, and to impart practical skills that will enhance the quality of life by reshaping lost abilities, heighten expectations, rebuild hope, confidence, self-respect and desire.
Related Speakers View all
---
Stedman Graham

Chairman & CEO of S. Graham & Associates, Leadership...

Roger Crawford

Hall of Fame Athlete; First & Only US Professional T...

Magic Johnson

Basketball Hall of Famer, Entrepreneur, Philanthropi...

Erin Gruwell

Founder & Executive Director of the Freedom Writers ...

Danita Patterson

Danita Patterson is founding president and principal...

Jonah Edelman

Advocate for Public Education, CEO of Stand for Chil...

Ann Bancroft

Pioneering Polar Explorer; Educator; Activist for Wo...

Jalen Rose

ESPN Analyst & Former NBA Player

Alan Page

Retired Minnesota Supreme Court Justice & Former Pro...

Neal Petersen

History-Making Extreme Adventurer, Award-Winning Aut...

Vince Papale

Former NFL Player & Inspiration for the Movie "Invin...

Jim Morris

Known for His Brief MLB Career & Subject of Disney's...

Jackie Joyner-Kersee

Olympic Legend, Philanthropist, American Record-Hold...

Farrah Gray

Celebrity Entrepreneur & Bestselling Author of "Real...

Mike Schlappi

Paralympic Medalist

Wes Moore

CEO of Robin Hood Foundation, Best-Selling Author & ...

Malaak Compton

Activist & Philanthropist

Shawn Harper

Former NFL Football Player, Successful Businessman &...

Pat Williams

Motivational Speaker & Sports Executive; Senior Vice...

Clifton L. Taulbert

Author, Business Consultant, & Speaker; Best Known f...
More like Harvey