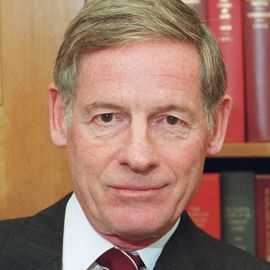 Harvey Mansfield is a political philosopher, author and professor. He is known for his generally conservative stance on political issues in his writings. He is the William R. Kenan, Jr. Professor of Government at Harvard.
His father, Harvey Mansfield Sr., was the Ruggles Professor Emeritus of Public Law and Government at Columbia University until his death in 1988. Mansfield has been at Harvard since he started as a student in 1949. He joined the faculty in 1962. He received his B.A. at Harvard in 1953, served in the United States Army, and then received his Ph.D. from Harvard 1961.
For more than forty years, Harvey Mansfield has been writing and teaching about political philosophy. Articles and political analysis by Mansfield frequently appear in periodicals such as the Weekly Standard, the Wall Street Journal, the New Republic, the National Review, and the Times Literary Supplement.
Mansfield has written or worked on fifteen books. Mansfield examines both contemporary politics and their historical origins, trying to find answers to political problems of today. He has written on Edmund Burke and the nature of political parties, on Machiavelli and the invention of indirect government, in defense of a defensible liberalism and in favor of a Constitutional American political science. He has also written on the discovery and development of the theory of executive power, and has translated three books of Machiavelli's and Tocqueville's Democracy in America.
He was Chairman of the Government Department at Harvard from 1973-1977, has held Guggenheim and NEH Fellowships, and has been a Fellow at the National Humanities Center. He won the Joseph R. Levenson award for his teaching at Harvard, received the Sidney Hook Memorial award from the National Association of Scholars, and in 2004 accepted a National Humanities Medal from the President. Mansfield delivered the 36th Jefferson Lecture for the National Endowment for the Humanities in 2007. He was the recipient of the Bradley Prize in 2011.
Related Speakers View all
---
Mitt Romney

Former Governor of Massachusetts, 2012 Republican Pr...

Dr. Anthony Fauci

Director of the National Institute of Allergy and In...

Moby

Musician, DJ, Photographer

William Easterly

Professor of Economics at New York University; Co-Di...

Shirley Tilghman

Molecular Biologist; Pres., Princeton University

Ingrid Newkirk

President, PETA

Brian Hoffstein

Contributing Writer

Cody Adams

Managing Editor of The Floating University.

Kay Warren

Christian Author

Peter Thiel

Former CEO and Co-founder of PayPal; Technology Entr...

Gerry Adams

President, Sinn Fein

John Legend

EGOT Winning Musician, Producer & Philantropist

Sebastian Copeland

Adventurer, Environmental Activist, Award-Winning Ph...

Calvin Trillin

Author, Columnist, Humorist & Political Satirist

Parag Khanna

Leading Geo-Strategist & Author

Jimmy Carter

Former United States President (1977-1981), Author

Dan Ariely

Behavioral Economist; Professor at Duke University; ...

Tom Freston

Principal, Firefly3; Former CEO, Viacom Inc.

Patrick Byrne

Founder & CEO, Overstock.com

Michael Walzer

Professor Emeritus, The Institute for Advanced Study
More like Harvey