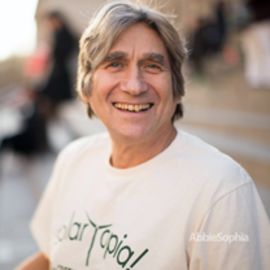 Harvey Wasserman is a journalist, author, democracy activist, and advocate for renewable energy. He has been a strategist and organizer in the anti-nuclear movement in the United States for over 30 years.
He has been a featured speaker on Today, Nightline, National Public Radio, CNN Lou Dobbs Tonight and other major media outlets.
Wasserman is a senior advisor to Greenpeace USA and the Nuclear Information and Resource Service, an investigative reporter, and senior editor of The Columbus Free Press where his coverage, with Bob Fitrakis, prompted Rev. Jesse Jackson to call them "the Woodward and Bernstein of the 2004 election."
Wasserman received a Bachelor of Arts in American History from the University of Michigan in 1967, where he was a member of Phi Beta Kappa. He holds a master's degree in American history from the University of Chicago.
He lives with his family in the Columbus, Ohio, area.
Related Speakers View all
---
Tristram Stuart

Environmental Campaigner, Author & Businessman

Carl Pope

Senior Adviser to UN Envoy for Cities and Climate; F...

Tom Steyer

California Business Leader; Philanthropist and Clean...

Alexandra Cousteau

Environmental Activist, Storyteller & Ocean Advocate

Chad Pregracke

Founder of Living Lands & Waters, CNN's Hero of the ...

Van Jones

CEO of REFORM Alliance, CNN host, Emmy Award-winning...

Daniel Esty

Hillhouse Professor of Environmental Law and Policy ...

Kartik Chandran

Environmental Engineer & Associate Professor at Colu...

Rick Ridgeway

Environmentalist, Mountaineer, Expedition Author, VP...

Graham Hill

Founder of Life Edited & TreeHugger.com

Ralph Nader

Former Presidential Candidate for the Green Party, C...

Dr. Jane Goodall

Internationally Renowned Primatologist; Founder of t...

Mark Tercek

Former President & CEO of The Nature Conservancy

Sheryl WuDunn

Pulitzer Prize-Winning Journalist; Co-author of Half...

Clay Shirky

Expert on New Technology & Social Media, & How They ...

Jeremy Rifkin

Leading Global Technologist, Futurist, Authority on ...

Majora Carter

Real Estate Developer, Peabody Award-Winning Broadca...

Erin Brockovich

Consumer Advocate, Author, TV Host & Environmental A...

Dr. Sylvia Hood Washington

Chief Environmental Research Scientist at Environmen...

George Monbiot

Investigative Journalist, Known for his Environmenta...
More like Harvey