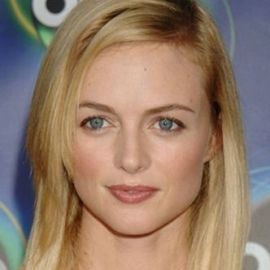 Heather Joan Graham (born January 29, 1970) is an American actress. After starring in various commercials, her first starring role came in 1988 with the teen comedy "License to Drive," followed by her breakout role in Gus Van Sant's critically acclaimed 1989 film "Drugstore Cowboy." She then played a number of supporting roles in films such as "Shout," "Six Degrees of Separation," "Swingers" and in the television series "Twin Peaks" and its prequel film "Fire Walk with Me" before gaining critical praise as porn starlet Brandi/Rollergirl in Paul Thomas Anderson's "Boogie Nights." In 1999, she co-starred in "Bowfinger" and "Austin Powers: The Spy Who Shagged Me."
In the 2000s, Graham starred in a number of movies ranging from studio films to major films like "Committed," "Say It Isn't So," "Anger Management," "Mary," "Gray Matters," "The Hangover" and "The Hangover Part III." She also had a role in the TV series "Scrubs" in 2004.
Graham is also a public advocate for Children International and supported the climate change campaign Global Cool in 2007.