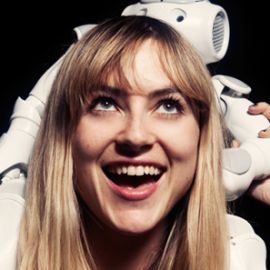 Heather Knight is a post-doc at Stanford University and adjunct computer science professor at Oregon State University. She also runs Marilyn Monrobot, a robot theatre company featuring comedy performances by Data the Robot, and an annual Robot Film Festival.
Knight combines her passion for robotics and entertainment in an effort to spark interest in science and technology. Her research involves human-robot interaction, non-verbal machine communications and non-anthropomorphic social robots. She was named to the 2011 Forbes List for 30 under 30 in Science and is featured for her robot comedy performances on TED.
Her work also includes robotics and instrumentation at NASA's Jet Propulsion Laboratory, interactive installations with Syyn Labs (including the award-winning "This too shall pass" Rube Goldberg Machine music video with OK GO), field applications and sensor design at Aldebaran Robotics. She is an alumnus from the Personal Robots Group at the MIT Media Lab and earned her bachelor and master's degrees at MIT in Electrical Engineering and Computer Science with a minor in Mechanical Engineering. Her installations have been featured at the Smithsonian-Cooper Hewitt Design Museum, LACMA, SIGGRAPH, PopTech and the Fortezza da Basso in Florence, Italy.
Videos
---
Speech Topics
---
Charismatic Machines
Assisted by her pint-sized robot comedian, Heather Knight will lead you through a crash course of social robotics. From call centers to mobile robots, we have emotional reactions and apply social conventions to machines. By adapting strategies from physical theater, Knight researches how robots can communicate nonverbally, identifying motion characteristics and behaviors that non-anthropomorphic robots can use to interact with us successfully and charismatically. Knight and ?Data? offer a one-of-a-kind robot-human interaction that is both humorous and engaging.