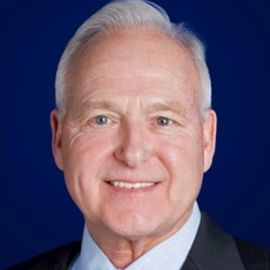 Henry Nothhaft
Author, "Great Again: Revitalizing America's Entrepreneurial Leadership," Advisor and Consultant
The clock is ticking on Americas future. The innovation underpinnings of our economic strength grow weaker by the month. Yet with all our problems, our nation still has something that is unique in all the world: a culture of enterprising inventiveness in which risk is rewarded.
Henry R. Nothhaft is a highly-successful entrepreneur and tireless advocate of smart innovation policies in Washington, D.C. whose new book Great Again: Revitalizing Americas Entrepreneurial Leadership has become a national best seller. He is a graduate of the U.S. Naval Academy and served in Vietnam as a Captain in the U.S. Marine Corps.
As a pathfinder in the telecommunications and networking industries he led a series of successful venture capital backed start-ups over a 35 year career that gave him the opportunity to create high performance organizations that invented many disruptive technologies resulting in hyper growth and radically changed new markets.
The former CEO of Tessera, a semiconductor miniaturization firm, Hank previously served as chief executive officer of Danger, that developed the wildly popular T-Mobile Sidekick smart phone, and engineered its acquisition by Microsoft in 2008 for $500 million. He also held the role of chief executive officer at early internet service provider that pioneered guaranteed network performance and created one of the fastest growing companies in the U.S., Concentric Network, where he led the company to a $70 million initial public offering and later a $2.9 billion acquisition by Nextlink Communications (now XO Communications).
His leadership with pioneering startups, Telenet Communications and Digital Switch helped revolutionize the telecommunications services industry and provided the foundation for the electronic messaging services and the Internet.
Hank has an MBA in Information Systems Technology from George Washington University and received the Distinguished Eagle Scout Award.
Videos
---
Speech Topics
---
Revitalizing Americas Job Creation Engine
Consider the questions on so many peoples minds these days: Why is it that two-income families can barely make it today, whereas when I was young, a middle class family could usually do fine on just one income?
Why did America once have money for schools and GI Bills and interstate highways, while today our infrastructure is in a state of dangerous decline? And why does prosperity seem to be a fading memory for many, as even greater riches accrue to an ever smaller few.
Two reasons, in the first place, back then America led the world in scientific and technological innovation. Innovation accounts for at least 80 percent of the nations economic growth and increases in living standards. The second reason why life was prosperous is that those technological innovations were inextricably linked to high value manufacturing of new products and services.
Nothhaft will outline the key reasons for this state of affairs and offer implementable, practical solutions. Using many personal anecdotes to humanize these issues, he will highlight how the sole source of new job growth in the US-startups and small businesses-are being crushed by one size fits all government tax and regulatory burdens that prevent them from growing, going public and creating jobs.
Why Facebook is worth $70 billion yet creates less than 1/50th the jobs produced by previous generations of startups-and what this means to all of us.
How our underfunded patent office is costing the nation millions of jobs and thousands of innovative new products, services and medical treatments.
Why the offshoring of high-tech manufacturing is hollowing out the middle class and threatening the job creation potential and future prosperity of the nation itself.
Using his first-hand experience with the way America does business nowadays, he proposes several ways to restore American dynamism and creative vigor by restoring the link between innovation and wealth and job creation through start-ups.