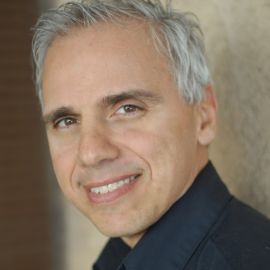 Herbie J Pilato was born October 9th to Herbie Pompeii and Frances Turri Pilato in Rochester, New York on Erie Street across from where now stands the city's famous Frontier Field, home of the popular Rochester Red Wings baseball team.
A entertainment enthusiast his entire life, Herbie J starting dancing to Chubby Checker's The Twist when he was all but three-years-old, and made his theatrical stage debut at 6 playing Judas in an elementary school production of The Last Supper (at Rochester's renown St. Peter and Paul's School).
From there Herbie J appeared in other school productions of You're A Good Man, Charlie Brown (as Snoopy) and The Story of Santa Claus (Rudolph).
After graduating from Aquinas Insitute of Rochester, he received a B.A. in Theatre Arts from Nazareth College of Pittsford, New York, and studied in TV and Film at U.C.L.A.
Herbie J later returned to the stage with lead roles in productions such as Leonard Melfi's Birdbath, Christopher Fry's A Phoenix Too Frequent and Pfieffer's People, all of which were performed at the Nazareth Arts Center in Pittsford.
From 1984-1985, he served his Internship in Television at NBC-TV in Burbank, California, and soon acted on TV shows like Highway to Heaven, The Golden Girls, General Hospital and The Bold and the Beautiful.
In 1992, Dell Publishing released Herbie J's first publication, The Bewitched Book, which was followed by The Kung Fu Book of Caine and The Kung Fu Book of Wisdom (both published by Tuttle in the mid-90s), Bewitched Forever (Tapestry Press, 2005), and The Bionic Book, Life Story - The Book of Life Goes On, and NBC & ME: My Life As A Page In A Book (all recently released by BearManor Media).
Herbie J has also been published in magazines like Sci-Fi Entertainment, Sci-Fi Universe, Starlog, Retro Vision, Remember and Classic TV, while he served as the website editor for PAXTV.com and MoviePlace.com.
Into this mix, Herbie J began serving as an on-screen cultural commentator for TV documentaries such as A&E's Biography of Elizabeth Montgomery and Lee Majors, as well as for Bewitched: The E! True Hollywood Story (which became the 7th highest rated True Hollywood Story in E!'s history).
He then started working as a consultant and producer on shows like David Carradine: The E! True Hollywood Story, TLC's Behind the Fame specials (on The Mary Tyler Moore Show, The Bob Newhart Show, L.A. Law and Hill Street Blues), Bravo's hit five-part series, The 100 Greatest TV Characters, the TV Guide Network's 100 Greatest Television Moments, and the Syfy Channel's short-lived but highly-regarded Sciography series.
Into this mix, Herbie J has also served as a cultural commentator and consulting producer for the DVD releases of Bewitched, Kung Fu, CHiPs and the heralded five-season box set for The Six Million Dollar Man.
He is also the author of the heralded Classic TV Corner blog at Jack Myers' MediaBizBloggers.com, and presides over Erie Street Entertainment (a television and film production company geared toward family-oriented projects), and Pop-Culture Consultants (an entertainment consulting firm).
Taylor Trade Publishing has just published Herbie J's newest book, Twitch Upon A Star: The Bewitched Life and Career of Elizabeth Montgomery which, based on his exclusive interviews with the iconic actress, has become the best-selling new title in Taylor's history.
As a result, the publisher has already commissioned a sequel for release in Halloween 2013: The Essential Elizabeth Montgomery: A Guide To Her Magical Performances.
Related Speakers View all
---
Simon Lovell

English Comedy Magician, Card Shark Actor and Con Man

Donna Tartt

Pulitzer Prize Award-Winning Author of "The Secret H...

Sebastian Faulks

Novelist, Journalist, and Broadcaster

Ben Stein

Political Economist, Commentator, Author & Actor

Greg McKeown

CEO of THIS Inc. & Best-Selling Author of "Essential...

Mike Straka

Journalist, Producer, Sports Analyst

Dee Snider

Daniel "Dee" Snider is an American singer-songwriter...

Ryan Grim

Ryan Grim / Washington Bureau Chief at The Huffingto...

James Patterson

NY Times Best-Selling Author & Reading Champion

N. Hamilton-Smith

British Milliner, Recording Artist, Author, Film Mak...

Jeffrey Kluger

Journalist; Editor and Writer at TIME MAGAZINE. Auth...

Peter Sagal

Host of NPR's "Wait Wait ... Don't Tell Me!"

Marco Tempest

Cyber-Illusionist

Calvin Trillin

Author, Columnist, Humorist & Political Satirist

Jimmy Tingle

Stand-up Comedian & Outspoken Social Commentator

Howard Stern

Radio & Television Personality, Producer, Author & A...

Jerry Saltz

Senior Art Critic

Charlie Rose

Anchor and Executive Editor

Roy Firestone

Award-Winning Journalist, Commentator & Impressionist

Bob Costas

Award-Winning Sportscaster, Broadcaster & Best-Selli...
More like Herbie