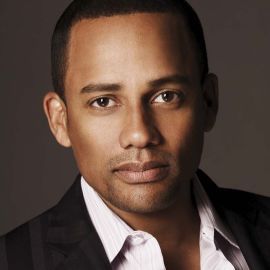 Hill Harper is a humanitarian, an award-winning actor, best-selling author, entrepreneur, health and wellness ambassador/educator and philanthropist. Harper currently stars as Dr. Marcus Andrews on TV's #1 new drama The Good Doctor on ABC. Harper also headlines HLN's How It Really Happened with Hill Harper and previously starred on CSI: NY and Showtime's awardwinning series Homeland. In theatres, Harper can be seen co-starring alongside Will Smith in the Sony Pictures film Concussion and in the recently released Tupac Shakur biopic All Eyez on Me.
Harper has earned seven NAACP Image Awards for his writing and acting and is a 4-time New York Times best-selling author for his books: Letters to a Young Brother (named "Best Book for Young Adults" by the American Library Association), Letters to a Young Sister, The Conversation, and The Wealth Cure: Putting Money in its Place. Harper's most recent book is the groundbreaking Letters to an Incarcerated Brother which speaks to the current mass incarceration crisis; it was released to critical acclaim and was nominated for several awards.
Harper founded The Manifest Your Destiny Foundation, a non-profit dedicated to empowering, encouraging, and inspiring underserved youth to succeed through education, mentorship, and grant programs.
Harper was born in Iowa City, IA, the son of two doctors – his father, a psychiatrist and his mother, an anesthesiologist. He graduated magna cum laude as valedictorian of his department with a Bachelor's Degree from Brown University and cum laude with a Juris Doctorate degree from Harvard Law School. Harper also holds a Master's Degree in Public Administration with honors from Harvard University's Kennedy School of Government and holds honorary doctoral degrees from Howard University, WinstonSalem State University, Cheyney University, Le- Moyne Owen College, Westfield State College, Dillard University and Tougaloo College.
Amongst his other titles, Harper is a successful businessman and entrepreneur. He owns The Roasting Plant Coffee Roastery in Detroit, an award-winning hotel in New Orleans, and The Architect & Co. – a health and wellness company. Harper also owns several commercial and residential rental properties in Los Angeles and Newark, NJ.
Harper currently serves on the President's Cancer Panel having been appointed by President Obama in 2011. He travels worldwide as a motivational speaker, addressing current affairs and life-awakening topics to a wide array of audiences of youth, educators, and business leaders. In 2004 and 2014, People named him one of their Sexiest Men Alive…he anticipates being named again in 2024.
Speech Topics
---
Building a Foundation for Your Life
Motivating Youth to Be Architects of Their Lives
The Importance of Education
Building Loving, Trusting Relationships
An Evening with Hill Harper
MANIFESTING YOUR DESTINY & CONQUERING F.E.A.R.
(False Evidence Appearing Real) Fear is the number one thing that holds the vast majority of us back from living our best lives and truly manifesting our destiny. Inspired by Nelson Mandela's philosophy "...that courage was not the absence of fear, but the triumph over it," Harper will explore fear and the limitations that fear puts on the individual's potential. Harper helps develop the tool kit we need to identify our most debilitating fears and sharpens our self-awareness to enable us to conquer them. By reinforcing his personal philosophy that we all have our own unique and purposeful driven destiny, Harper's speech teaches us about the critical value of perspective in order to live fulfilled lives at home, school, or in the workplace.
THE WEALTH CURE
Harper presents themes from his New York Times Bestselling book The Wealth Cure, which melds together personal philosophy, life strategies, and guidance on fortifying a financial future. Harper highlights the importance of identifying our individual wealth factors, in order to create true wealth. Harper's strategy, infused with personal reflection, helps the individual understand how to diagnose & cure financial impediments to enable him or her to live an abundantly wealthy life. Harper's advice offers practical application to build financial security. His presentation will demonstrate the importance of investing, budgeting, and saving effectively, but Harper also redefines wealth through a prism of good health and personal relationships.
THE BLUEPRINT
Being an Active Architect of Your Own Life
We all have the potential to create the life we desire. Harper compares the individual's ability to build his or her own life, to an architect's design skills. An architect starts with a blueprint. The building shown on the blueprint is gradually erected and the structure is built. Harper explains how we can develop blueprints with the plans for our own lives. His speech coaches us to be active architects of our own lives, with a few simple tools. Harper leaves his audience inspired to both seek and create opportunities that empower them to use their unique creative skills and abilities.
ENERGY & INNOVATION IN THE WORKPLACE
Reinvigorate Your Mind & Ideas
Harper uses principles from physics and a powerful analogy about energy to explore why many of us experience energy and creativity blocks in the workplace. He explores the power of energy and how critical it is not to let what is going on around you, change what is going on inside of you. Harper will offer a number of methods to stay on course and maximize our highest potential.
SAILING THE SEVEN C'S OF SUCCESS
Harper details the principles of one of the most popular themes in his books- The Seven C's of Success:
Creativity
Courage
Character
Confidence
Commitment
Completion
Calm
THE CONVERSATION
Male/Female Relationships in 2015 and Beyond
Harper presents his findings from his #1 bestselling relationship book The Conversation with an interactive discussion between men and women regarding love and relationships. He offers guidance for how men and women can fortify their relationships with clearer and more consistent communication. Harper not only analyzes the misunderstandings that plague men and women in their interactions, but in his presentation he encourages a real time conversation among the audience. The goal of this conversation is to stimulate both active listening, and self-discovery. The audience will leave with key tips for leveraging honest and direct communication to build new loving and lasting relationships, and to protect and strengthen existing relationships.
Books
---
Related Speakers View all
---
Bakari Sellers

Author, Attorney, Political Commentator & Youngest A...

DeRay Mckesson

Civil Rights Activist & Host of "Pod Save The People"

Angela Davis

Feminist, Social Activist, Professor & Writer

J.R. Martinez

Actor, Best-Selling Author, Motivational Speaker, Ad...

Donna Brazile

Veteran Political Strategist, Bestselling Author, Fo...

Ice-T

Rapper, Record Producer, Actor Known for "Law & Orde...

Ilyasah Shabazz

Daughter of Malcolm X, Professor & Author

Wes Moore

CEO of Robin Hood Foundation, Best-Selling Author & ...

Baratunde Thurston

Futurist Comedian, Writer & Cultural Critic

Nikki Giovanni

Poet, Educator & Best-Selling Author

Joy-Ann Reid

MSNBC Correspondent, Political Author & Former Host ...

Shiza Shahid

Entrepreneur, Technologist, Investor, Impact Leader ...

Daymond John

"Shark Tank" Investor; Founder & CEO of FUBU; Presid...

LeVar Burton

Literacy Advocate & Actor Known for "Roots," " Star ...

David Banner

Rapper, Record Producer, Activist & Actor

Diane Guerrero

Immigration Reform Activist & Actress Known for "Ora...

Yvonne Orji

Actress, Comedian & Writer, Known for HBO's "Insecure"

Stephen A. Smith

Sports Journalist, Analyst and Talk Show Host Known ...

Van Jones

CNN Political Contributor; Author; Human Rights, Edu...

Maya L. Harris

Former Campaign Chairwoman for Kamala Harris's 2020 ...
More like Hill