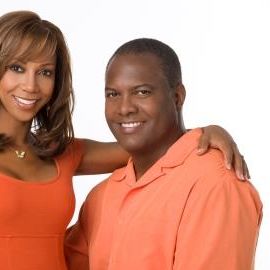 Holly Robinson Peete & Rodney Peete
Actress, Author, Activist, Philanthropist; Sports Star, TV/Radio Personality, Author
Actress, author, activist and philanthropist, Holly Robinson Peete has been touched by the entertainment industry all of her life. Her career as an actress dates back more than two decades and has led her to becoming a voice for her father, her son and her community.
This year Robinson Peete has been featured as a cast member on NBCs Celebrity Apprentice. Through her appearance on the show, she sheds a national light on a cause very personal to the Peete Family: autism. In 1996, Robinson Peete and her husband, Rodney Peete, formed the HollyRod Foundation, inspired by her fathers inspiring battle with Parkinsons disease, with the mission to help improve the quality of life of people plagued with devastating life circumstances. In 2005, inspired by their son, hollyrod4kids was formed to focus on childrens causes and improving the lives of children affected by circumstances beyond their control, specifically autism. Through hollyrod4kids and her familys personal experiences, Robinson Peete has become an advocate for consistent and reliable education, outreach and support on autism.
Her autism advocacy also extends to her book with daughter, Ryan Elizabeth Peete. On March 16th, 2010, Robinson Peete released her second book, a childrens picture book about autism from the siblings perspective, co-authored by 12-year old Elizabeth Peete, entitled My Brother Charlie (Scholastic). With her first book Get Your Own Damn Beer, Im Watching the Game: A Womens Guide to Loving Pro Football (2005, Rodale), Robinson Peete won the 2006 Quill Literacy Award.
Her longevity and visibility in the entertainment community has led Robinson Peete to a successful career as a spokesperson for some of the countrys biggest brands. This year, she has partnered with Hass Avocado to support the First Ladys initiative to fight childhood obesity as well as hosting Real Life Makeover segments for Yahoo/Reville/Walmart. Robinson Peete has completed two years as the face of Targets Dream In Color campaign and is continues her work as the multicultural spokesperson for Colgate toothpaste. Additionally, in 2008 she and her children were featured as part of Skechers Nothing Compares to Family campaign highlighting her HollyRod Foundation.
Robinson Peete had her first experience in front of the camera, and one could argue her philanthropic start, at the age of four when she appeared on television opposite her father, Matthew Robinson who portrayed the original beloved character of Gordon, on the award-winning childrens program Sesame Street. While she knew even at that young age her calling was to be an actress, Robinson Peete opted to lead a typical childhood rather than searching to be the next child star.
However, upon finishing her college education, Robinson Peetes heart led her back to entertainment. In 1986, she landed a starring role on the FOX television drama 21 Jump Street opposite unknown cast members including Johnny Depp. She has gone on to star in three additional successful television series including Hangin With Mr. Cooper, For Your Love, and One on One. Robinson Peetes successful television career places her as one of only a handful of actresses to star in four shows in syndication. In addition, she also recently starred in the original Lifetime movie Matters of Life & Dating for which she was nominated for an NAACP Image Award.
Robinson Peetes junior year abroad at Frances renowned Sorbonne University and performances in Paris nightclubs proved her an obvious choice to sing throughout her acting career. Not only did she perform the theme songs for both 21 Jump Street and Hangin With Mr. Cooper, she also did her own signing as Diana Ross in the miniseries The Jacksons: An American Dream. Robinson Peete says fondly that singing is her first love and passion.
In late 2008, Robinson Peete wrapped a successful run as an on-air personality alongside her husband Rodney on their daily radio program Meet the Peetes. Airing on the Oprah & Friends network on Sirius/XM Satellite Radio, Meet the Peetes captured the reality of two working parents raising their four children, balancing their careers and being activists and advocates on issues which affect their lives. The Peetes were able to effectively balance issues, fun and family in a way only two people who have been married for 14 years can.
In addition to her philanthropic work through the HollyRod Foundation, Robinson Peete has become involved in other organizations as well. She currently serves as a member of the board to two highly reputable foundations: Autism Speaks, a national organization to promote autism awareness and raise funds for the fight against the disorder; and the Los Angeles Zoo.
Robinson Peetes philanthropic efforts have earned her numerous awards and honors including: Ford Freedom Sisters 2010, The 1999 Woman of Conscience Awards, American Mentor Award, The Buddy Award presented by NOW Legal Defense & Education Fund, The Southern California Broadcasters Assoc Community Service Award, 2004 Gerald R. Ford People Helping People Award, The 2004 March of Dimes Healthy Babies, Healthy Futures Award, 2004 USC Woman of Distinction Award, Anheuser Busch John E. Jacob Community Service Award, The Huntington Disease Society Distinguished Achievement Award, The 2004 and 2005 Girls Inc Mentor Award, and The 2006 A Place Called Home Humanitarian Award.
Born in Philadelphia and raised in Los Angeles from the age of nine, Robinson Peete was voted most talented in junior high school alongside fellow classmate and future actor Rob Lowe. She did her undergraduate studies at the prestigious Sarah Lawrence College where she majored in Psychology and French. She spent her junior year studying abroad at Sorbonne University in France, where she held a memorable performance with Jazz legend Lionel Hampton at the Hotel Meridian Jazz Club.
NFL veteran quarterback Rodney Peete, best known for his leadership and a winning attitude, spent 16 successful years in the NFL. His admired position in the public eye has led him to a successful career as sports star, television/radio personality, author and philanthropist.
In March 2010, Peete released his first book, Not My Boy! A Father, a Son, and One Familys Journey with Autism. The story, based on the Peete familys experience raising a child with autism, is published by Hyperion and is currently receiving wide acclaim. Through Not My Boy!, Peete is giving a voice to an often unheard journey: the father. Influencers from across the country have acknowledged Rodneys brave story of a father coming to terms with his childs autism diagnosis while simultaneously fighting to keep his family intact.
Following his NFL career, Peete went on to become a co-host on Fox Sports The Best Damn Sports Show Period. In 2008, he and wife, actress Holly Robinson Peete, hosted Meet the Peetes on XM Radios Oprah Radio. Meet the Peetes focused on the life of two working parents raising their four children, balancing their careers and being activists and advocates on issues that affected them and their family.
Peete is president of HollyRod Entertainment, a Los Angeles-based entertainment and investment firm. Additionally, he is a co-founder of the HollyRod Foundation, an organization established to generate funds to fight Parkinsons Disease, support children suffering from Autism, and improve the quality of life for those in need. In his role for the organization, Peete has been able to secure partnerships with some of the largest corporations in the world including Target, Anheuser-Busch, Mercedes Benz, and Starwood among others.
He also serves on the Board of Governors at his alma mater, USC, from where he holds a B.A. and was First Team All-American and 1988 Player of the Year.
Peete and Robinson Peete have been married for 14 years and are the proud parents of four children: twins Ryan Elizabeth and Rodney Jackson, Robinson James and Roman Matthew. The family resides in Los Angeles.
News
---
Holly Robinson Peete talks new reality show, autism awareness
Holly Robinson Peete has her plate full for the next couple of months. The "21 Jump Street" actress has a reality show debuting on the OWN network and she plans to release book about autism, titled "Same But Different" that she co-authored with two of her children. The 52-year-old actress has been a vocal about autism since her now 18-year-old son R.J. was diagnosed at the age of 3. Peete lives in Los Angeles with her ex-quarterback husband Rodney Peete and their four children. She spoke to FOX411 about it all.
Related Speakers View all
---
Keke Palmer

Actress & Youngest Talk Show Host in TV History

Tamera Mowry-Housley

Actress & Entrepreneur; Former Emmy & NAACP Image Aw...

Eva Longoria

Award-Winning Actress, Producer, Director, Activist,...

Venus Williams

Professional Tennis Player, Four-Time Olympic Gold M...

Lisa Leslie

WNBA Champion, Olympic Gold Medalist & Author of "Do...

Daymond John

"Shark Tank" Investor; Founder & CEO of FUBU; Presid...

Kemba Smith

Criminal Justice Advocate, Author of "Poster Child,"...

Amy DuBois Barnett

Chief Content Officer, theGrio.com & EVP Digital, En...

Diane Nash

Civil Rights & Peace Activist

Diane Isaacs

Co-Founder & Creative Director, The Miracle Project

Eustacia Cutler

Autism Activist / Mother of Temple Grandin

Beverly Bond

Founder & CEO of Black Girls Rock!

Jurnee Smollett

Actress & Singer

Sheryl Lee Ralph

Actress, Singer & Producer

Amy Purdy

Former "Dancing with the Stars" Contestant & Paralym...

J.R. Martinez

Actor, Best-Selling Author, Motivational Speaker, Ad...

Vanessa Williams

Grammy Nominated Singer; Actress; Known For "Soul Fo...

Magic Johnson

Basketball Hall of Famer, Entrepreneur, Philanthropi...

Gabrielle Union

Actress, Voice Artist, Activist, Author

Fredricka Whitfield

CNN News Anchor
More like Holly