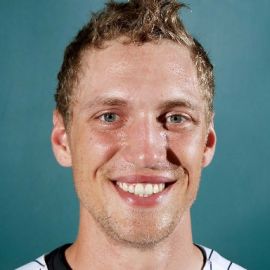 Hunter Andrew Pence is a Major League Baseball right fielder for the San Francisco Giants. He previously played for the Houston Astros and Philadelphia Phillies. Pence stands 6 feet 4 inches (193 cm) tall and weighs 220 pounds (100 kg). He bats and throws right-handed. He was a member of the 2012 World Series and 2014 World Series championship teams with the San Francisco Giants.
Pence made his major league debut as the Houston Astros center fielder on April 28, 2007, versus the Milwaukee Brewers and got his first major league hit and scored his first run. Pence's first home run in the majors was a grand slam, against the St. Louis Cardinals on May 5. Pence hit a dramatic walk-off home run against José Mesa of the Philadelphia Phillies in the bottom of the 13th inning at Minute Maid Park on July 3 in a 5–4 win. It was Mesa's only pitch of the game. Pence was named National League co-Player of the Week for May 14–20, after recording a 1.091 slugging percentage and .625 on-base percentage with 2 home runs and 5 RBIs.
On July 31, 2012, the Phillies sent Pence in a deadline deal to the San Francisco Giants.
Videos
---