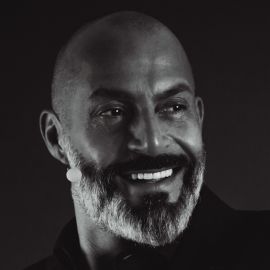 In the space of 25 years, Igor Beuker was kicked out of professional football and went from a college dropout to a radical marketing visionary and modern-day serial entrepreneur. He has become one of the prominent speakers in the international business speaking circuit.
And he hasn't slowed down since.
Today, Igor is an energetic professional communicator with a stunning track record as keynote speaker, award-winning marketing strategist for global brands like Nike, Amazon, L'Oréal and Unilever, new-breed trendwatcher for Fortune 500s, and serial entrepreneur with multiple exits.
Advertising may win quarters, innovation wins decades. It's been his claim for 25 years.
Global business leaders and media have labeled him one of Europe's most inspiring, innovative and influential marketing speakers and entrepreneurs.
Igor is an energetic professional communicator with a proven track record as keynote speaker and host. He has inspired more than 4 million people from over 100 countries.
Countless television and radio shows, newspapers and business magazines have featured Igor's independent expert voice on emerging trends in marketing, media, and innovation.
After 1,000+ international talks for leading brands and events, he jumped from the podium to the television screen. He still speaks 150 times per year. Never the same talk twice.
At conferences and on Twitter, he is frequently a trending topic as Math Man in a world of Mad Men. Audiences tweet about his authentic, bold, charismatic and witty personality.
For most of his life, Igor has been a strategic growth entrepreneur who helps brands to coin trends, outperform industries, conquer markets and realize double-digit growth.
In 25 years' experience at C-level, Igor advised more than 100 brands, including as an award-winning marketing strategist for global brands like Nike, Amazon, L'Oréal and Unilever. As new-breed trendwatcher he drives trend-driven innovation programs for Fortune 500s.
His radical strategies as CMO (10 years) were backed by a multi-billion-dollar corporate track record. Next, as an entrepreneur, he founded three multi-million-dollar marketing firms from scratch, which leading global media network WPP (NASDAQ: WPPGY) acquired for double digits.
As global Chief Strategy Officer for WPP, Igor's radical Math Man vision and bold forward-thinking transformed many established brands that required next-level change and reinvention.
Videos
---
Speech Topics
---
Media, Marketing & Digital Transformation
25 years at C-level, 15 years as an independent professional speaker Igor Beuker has delivered 1,000+ international talks.
Igor has spoken for the industries that are being disrupted the most by digital. From leading brands in B2C and B2B to startups and SME.
Igor can speak with authority and boundless energy about anything to do with media, marketing, trend-driven innovation, digital transformation, and acceleration.
Related Speakers View all
---
R "Ray" Wang

Founder, Chairman & Principal Analyst at Constellati...

Louis-Philippe Loncke

European Adventurer 2016, Explorer, Motivational Spe...

N. Hamilton-Smith

British Milliner, Recording Artist, Author, Film Mak...

Fredrik Haren

Idea Generation • Creativity • Innovation • Vision •...

Amanda Gore

CEO, The Joy Project; Hall of Fame Motivational Spea...

Jim Carroll

One of the World's Leading Global Futurists, Trends ...

Kirsty Spraggon

‎Talk show host. Speaker. Life absorber. People love...

Joe Sabia

Head of Development at Conde Nast Entertainment, Dir...

Tina Marie Jones

Connecting with the audience through the style of a ...

Josh Linkner

Five-Time Tech entrepreneur, Hyper-Growth CEO, New Y...

Jeff Jarvis

Leader in the Development of Online News & Blogging;...

Watts Wacker

Futurist & Commentator

Jean Bailey Robor

Jean Bailey Robor, award-winning author and inspirat...

David Pogue

Host of NOVA ScienceNow & Yahoo Tech Columnist

Somto Okeke Charles

Somto Okeke Charles is a vibrant & innovative young ...

Dave deBronkart

Kidney Cancer Survivor & Patient Advocate Known as "...

Danny Mekić

Technology Expert, and "most successful Dutch young ...

Christi Tasker

Social Media Branding Queen and Keynote Speaker

Nicole Yeary

Founder & CEO of Ms.Tech

David Nour

Social Networking Strategist
More like Igor