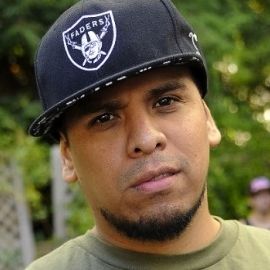 Immortal Technique is a Peruvian-American hip-hop artist and activist known for lyrics that cover controversial issues in global politics from a radical left-wing perspective.
Born Felipe Coronel in a military hospital in Lima, Peru, in 1978, Immortal Technique moved to Harlem with his parents when he was two years old. At age nine he started rapping, though he didn't start to take it more seriously until he was in high school. Despite the fact he was in and out of trouble throughout his teenage years, Immortal Technique was accepted at Penn State University, but before he could get through much of college, he was arrested and eventually ended up spending a year in prison.
It was during his time in prison that he began to study the lives and teachings of black and Latino revolutionaries like Che Guevara and Malcolm X, as well as to devote himself to writing songs. Out in 1999 on parole, he moved back to New York, where he spent his days working various jobs and his nights battling other rappers, a forum that allowed him the opportunity to show off his aggressive, vituperative style.
Concerned that he was being pigeonholed as a one-trick pony, Immortal Technique set about writing complete tracks, finding beats to accompany them, and eventually releasing his debut, Revolutionary, Vol. 1, in 2001 (an album that was later re-released by his own company, Viper Records, in 2004 and Babygrande in 2005). The record, plus his strong work ethic, earned him local recognition and a spot as The Source's "unsigned hype" in November 2002, and the following year he issued his second album, Revolutionary, Vol. 2. Although he promised his third release would see the light of day in 2005, it wasn't until the summer of 2007 that fans got any new material from Immortal Technique (other than a few singles), coming in the form of the full-length album The Middle Passage.
In 2008, he released his next album, The 3rd World, which peaked at #12 on the U.S. Rap Albums chart. In October 2011, Immortal Technique released The Martyr, a free compilation album of previously unreleased material and new tracks.
A documentary about Immortal Technique, The (R)evolution of Immortal Technique, was released in September 2011 and premiered at the Harlem Film Festival.
Immortal Technique is also a philanthropist, visiting prisons and working for immigrant rights.
Related Speakers View all
---
David Banner

Rapper, Record Producer, Activist & Actor

J. Cole

Hip-Hop Recording Artist & Record Producer Known for...

T.I.

Grammy Award-Winning Rapper & Record Producer

Kendrick Lamar

Grammy & Pulitzer Award-Winning Hip-Hop Recording Ar...

Talib Kweli

Rapper, Emcee, Activist & Entrepreneur

Vic Mensa

Hip-Hop Recording Artist & Founder of the SavemoneyS...

Killer Mike

Hip-Hop Artist & Activist Focused on Social Inequali...

B.o.B. (Bobby Ray)

Hip Hop Recording Artist, Singer, Songwriter & Recor...

Rihanna

Grammy Award-Winning Singer, Songwriter & Actress

Ice-T

Rapper, Record Producer, Actor Known for "Law & Orde...

Common

Award-Winning Artist, Actor, Producer, Musician & Wr...

Cardi B

Grammy Award-Winning Rapper Known for "Bodak Yellow"

Big Sean

Rapper & Hip-Hop Artist Known for "My Last" and "Con...

Del The Funky Homosapien

Del tha Funkeé Homosapien or Sir Dzl, is an American...

Nicki Minaj

Rapper, Singer & Songwriter Known for Songs Like "An...

Lupe Fiasco

Rapper, Record Producer, & Entrepreneur; CEO of 1st ...

M.I.A.

Rapper, Singer, Songwriter, Record Producer & Activist

Snoop Dogg

Rapper, Singer, Songwriter, Record Producer & Actor

Joey Bada$$

Hip Hop Artist & Founding Member of the Hip Hop Coll...

Akon

Senegalese-American R&B and Hip-Hop Recording Artist...
More like Immortal