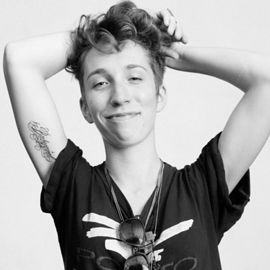 iO is an artist, activist, writer, speaker, and social scientist.
Her work primarily deals with identity, be it through her fine art portraiture, or her ongoing activism campaign, Self Evident Truths. She was a featured contributor for T Style Magazine at theNew York Times for two years, and her work has been featured in The New York Times Magazine, New York, Brooklyn, Dossier, GQ, Elle, Bomb, HUGE, and The New Order Magazines.
iO has exhibited her artwork in New York and Tokyo, and has published three limited edition photography books. iO is a public speaker, who regularly travels the country lecturing at events and schools, encouraging people to broaden their 'circle of normalcy', and expand their sphere of empathy. Her TED talk, "Fifty Shades of Gay" has been viewed by over 1.5 million people and is considered a key element of the growing international discussion of sexuality and gender.
iO was a professional film and theater actor until the age of 20. She published a Street Art magazine, Overspray, for five years, and has also directed several independent music videos.
She is currently working on reaching 10,000 portraits for Self Evident, a feature film screenplay, and a forthcoming memoir, to be published by Ecco Books, (an imprint of Harper Collins), in 2016.
Videos
---
Speech Topics
---
FIFTY SHADES OF GAY 2.0 -- ALLOWING PEOPLE TO BE WHAT THEY ARE, WHEN THEY ARE
Few people can claim such an intimate, hands on knowledge of the inner workings of the sexuality spectrum within today's society, both from personal experience, and research, as iO Tillett Wright. iO spent eight years of her life living as a boy, only to switch back to being a girl at the age of 14. She has been in love with both men and women, and she spent the last four years photographing androgyny and out of the box thinking around the world. Most recently, she traveled the United States photographing and meeting 2,000 people who consider themselves anything other than 100 perfect straight. In this talk, iO offers a very personal perspective on sexuality, and how identity labels are detrimental and counter intuitive, using her own growth throughout her travels, anecdotes from people she has met, and inspirational words to bring home a point on how to make a difference, even if you have no experience in making a difference.
PHOTOGRAPHY -- CAPTURING SOMETHING REAL
Consistent in every environment, iO considers the method the same, whether shooting a hundred portraits a day for Self Evident Truths, capturing the essence of live performance, or celebrity portraiture for her columns for the NY Times Style Magazine, or in her work for numerous international outlets. iO has become a master of the swift, comfortable portrait.
Known for her deep passion for honesty in images, a question that is often posed to her is, "how do you capture someone's essence?"
In this talk, she discusses letting the subject dictate their truth, as well as the importance of really seeing your subject, knowing your equipment, and making them feel at ease. She shares a unique perspective on a no-frills, effective approach to the intimate art of portraiture, as well as a general look at the photography world. Using humor and imagery to illustrate her points, iO touches on the pitfalls of over-directing, operating in a male dominated industry, being a kind boss, and how to compromise without losing your vision.
OVERCOMING INCREDIBLE ODDS IN CHILDHOOD AND BEING A FUNCTIONING, KIND ADULT
The child of two addicts, iO essentially raised herself on the streets of downtown New York in the 1980's. Despite being steeped in the worlds of drugs and alcohol, she maintained her own identity, living as a boy for eight years, and working consistently as a child actor until she was 20 years old. Removed from her home by the state as a young teenager, she moved to Europe, navigating two new countries, learning fluent German, and she emerged from her gender switch in a boarding school in England. Returning to the US at 17, she graduated high school, started a business, and hasn't looked back.
In this talk, iO speaks to not letting anger take control of your life, allowing forgiveness for the people who hurt you (even if they are your parents), and not letting adversity effect your productivity in adulthood. A deeply personal talk, she touches on the different things that have helped her move through life with positivity, and the importance of kindness in everything one touches.
THE SELF EVIDENT STORY - CREATING CHANGE WHERE YOU SEE IT'S NEEDED, AND REALIZING YOUR DREAMS
iO never intended to be an activist, but two and a half years after starting her project, she sits at the forefront of a new movement in sexuality, at an incredibly important moment in history for the equality struggle.
As much a story of devotion to equality for all human kind, this is a story of how to be effective in any field.
Via the Self Evident Truths project, a story that follows a kid with a camera determined to make a positive change in her nation, iO touches on figuring out how to achieve your dreams as you go, and the importance of knowing what you are good at.
Be it a business idea, or an activism initiative, the ultimate message of this talk is that if you believe in yourself and recognize your strengths, you can achieve anything.
BEING GAY TODAY -- WHAT THAT MEANS IN OUR CURRENT CLIMATE AND WHERE WE ARE HEADED
A champion of acceptance in all forms, iO recognizes the vital position of the LGBT community as a new frontier of educators in the United States. She points out the power in allowing people to express their true selves in every moment of their development, and the dangers of putting people into boxes, as well as positive ways to deal with instances of discrimination, turning bigotry into an opportunity to enlighten someone.
Drawing from her TED talk, "Fifty Shades of Gay," iO discusses a new paradigm within sexual identity, and the importance of allowing all shades to thrive.
Using her experiences with Self Evident Truths, and stories from her travels as well as from her own life, she touches on "heterophobia", the dangers of alienation within our own community, and how to be inclusive in a campaign for equality. iO also looks at allowing yourself to just be a PERSON, rather than being "a GAY PERSON".
Carrying a message of hope, this talk is inspirational, leveling the playing field, and painting us all as equally capable, empowered human beings.
Called one of the most engaging young figures in New York's creative worlds, Tillett Wright is known for her simplicity and approachability when speaking. A native New Yorker, any issue takes on a witty, personal tone.
Not one to be pinned down in any capacity, iO has spent a lifetime in the artistic worlds, bridging fine art, journalism, acting, film making, and activism, keeping smiles on everyone's faces.
Forever an advocate of living true to oneself, iO strikes a chord with those who believe in acceptance, open mindedness, and honesty.
She says exactly what she believes, using humor and a uniquely fresh perspective to bring her points home in an entirely relatable way.
Related Speakers View all
---
Lance Bass

Pop Singer and Dancer; Member of the Former Boy Band...

Dan Savage

Advice Columnist & Host of the "Savage Lovecast" Pod...

Charlene Strong

Gay Rights Activist

Andy Cohen

Host & Producer of Bravo's "Watch What Happens: Live...

LZ Granderson

CNN & ESPN Columnist; Celebrated Voice on Sports, Ra...

Perez Hilton

Popular Celebrity Gossip Blogger

Chaz Bono

Transgender, LGBTQ Rights Advocate, Author, Speaker

Simon Doonan

Author, SLATE columnist Creative Ambassador for Barn...

Jackson Katz

Anti-Gender Violence Activist, Author

Dustin Lance Black

Academy Award-Winning Writer of "Milk" & "J.Edgar"

Anthony Romero

Executive Director of the ACLU; First Latino & First...

Jay Manuel

Former Judge on "America's Next Top Model", Host of ...

Greg Louganis

4x Olympic Gold Medal Diver, LGBT Activist & Author

Carson Kressley

TV Personality & Fashion Designer; Best Known for "Q...

Van Jones

CNN Political Contributor; Author; Human Rights, Edu...

Caitlyn Jenner

TV Personality, Olympic Gold Medalist & Iconic Trans...

Ellen DeGeneres

Award-Winning Comedian, TV Host, Actress & LGBTQ Act...

Anderson Cooper

Journalist, TV Personality, Anchor of CNN's "Anderso...

Travis Wall

Emmy Award-Winning Dancer and Choreographer; "So You...

Cheyenne Jackson

Star of Broadway and TV's "Glee" and "30 Rock"
More like iO