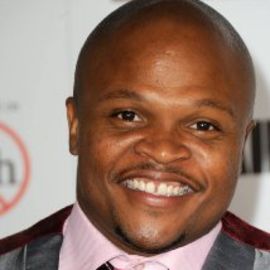 IronE Singleton is best known to audiences as the menacing kingpin Alton in the Academy Oscar Award-nominated film The Blind Side; the biggest box office grossing sports movie of all time. He is also known as the compassionate tough guy, T-Dog, in the Emmy, AFI and WGA Award-winning, Golden Globe nominated TV show The Walking Dead; one of basic cable's highest rated shows for viewership. Singleton's unusual name depicts his life story, his ability to play strong, multidimensional characters, and has made him a memorable actor in both film and television.
Singleton appears on the big screen alongside Bow Wow and Ice Cube in Lottery Ticket. He stars alongside Nicolas Cage, Guy Pearce and January Jones in the feature film Seeking Justice and captivates the Lifetime audience in his leading role as "Glock" Nichols with Neve Campbell in Sworn To Silence. Singleton's talent is on display in several television pilots, including ABC's Detroit 1-8-7, VH1's Single Ladies, and TNT's Franklin & Bash. Among his other television credits are CW's One Tree Hill and BET's Somebodies.
Born and raised in Atlanta, GA, Singleton's story embodies everything we have come to understand about the lives of many inner city youth growing up in low-income housing projects. Fatherless, having lost his mother to HIV/AIDS when he was a senior in high school, and watching his brother spend most of his life in Georgia's prison system, Singleton fought to have a life far different from the one he knew growing up. The irony of his story is that, while all the odds were stacked against him, Singleton still overcame his troubled childhood to attend the University of Georgia on academic and football scholarships where he completed a double major in Theater and Speech Communications.
Prior to breaking into film and television, Singleton put on a one man theater show entitled IronE . . . The Resurrected which garnered rave reviews. He is now in the process of transcribing the production into a semi-autobiography book manuscript which chronicles his life from poverty to fame; available spring 2013. His ambition is to have it produced as a movie along with his current screenplay Volleyball Vixens.
Singleton is also overly enthusiastic about incorporating his non-profit performing arts school, IronE School of The Arts (ISA). The school will provide youth with a performing arts program that is intellectually stimulating, emotionally compelling, aesthetically enriching, and personally relevant with a strong emphasis on truth, purpose, respect for self and others and love for all of humanity.
In his spare time, Singleton is a motivational speaker and lyricist. Samples of his music, including titles such as "We Are The Walking Dead" and "The Blind Side" are available at www.IronEsingleton.com. Singleton divides his time between Atlanta and Los Angeles with his wife and children.
Videos
---
Related Speakers View all
---
Emma Bell

Actress Who Played Amy in "The Walking Dead" and Emm...

Lauren Cohan

Actress; Best Known as Maggie Greene on "The Walking...

Michael Rooker

Actor; Known for "The Walking Dead" and "Guardians o...

Danai Gurira

Actress, Best Known for "Black Panther" & "The Walki...

Laurie Holden

Actress Known For AMC's "The Walking Dead;" Human Ri...

Sean Astin

Actor, Director, Voice Artist and Producer; Best Kno...

Emily Kinney

Actress Best Known for Her Role as Beth Greene on "T...

Clare Kramer

Actress Best Known for "Bring It On" & "Buffy the Va...

Evanna Lynch

Actress Known for her Role as Luna Lovegood in the "...

Tyler Posey

Actor and Musician; Best Known for His Role as Scott...

Melissa McBride

Best known as Carol Peletier on AMC's "The Walking D...

Steven Yeun

Actor; Best Known as Glenn Rhee on "The Walking Dead"

David Banner

Rapper, Record Producer & Actor

Nicholas Brendon

Actor; Known for "Buffy the Vampire Slayer" and "Cri...

Jeffrey DeMunn

Played Dale on AMC's Hit Show, "The Walking Dead"

Felicia Day

Creator and Star of the Web Series "Dragon Age: Rede...

Dan Mintz

Comedian and Voice Actor; Known for Playing Tina Bel...

Lou Ferrigno

Actor Best Known For His Role as The Hulk; Fitness T...

David Morrissey

Director and Actor Best known as The Governor on AMC...

Clark Gregg

Actor known for his roles as Richard Campbell on "Th...
More like IronE