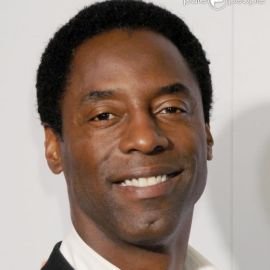 Isaiah Washington
NAACP Image and SAG Award Winning Actor and Activist, Best Known as "Dr. Burke" On "Grey's Anatomy"
An internationally acclaimed, award-winning actor, Isaiah Washington is an extraordinary man of character known for his many memorable performances and devotion to his craft: ''What I've always wanted to put at the forefront is my creativity – what I've always wanted to do – is act.''
A veteran of Spike Lee films, Washington's extensive body of work is perhaps most marked by his role as gifted cardiothoracic surgeon "Dr. Preston Burke" on the hit ABC medical drama Grey's Anatomy. His portrayal earned him two NAACP Image Awards for Outstanding Actor in a Drama Series, as well as a Screen Actors Guild Award. After leaving Grey's Anatomy, Washington joined NBC, guest starring on Bionic Woman. He has been recognized on TV Guide's "TV's Sexiest Men" list in June 2006, and was named one of People's "50 Most Beautiful people" in May 2006.
Now focusing his efforts off-screen, Washington is a devout supporter of Sierra Leone, working to give back to the land to which his ancestry has been traced. In 2007, he founded The Gondobay Manga Foundation, advocating cooperative planning to achieve positive, timely improvements in the lives of the people of Sierra Leone. By uniting passionate people, The Foundation strives for immediate impact by addressing one village at a time. This singular approach tailors initiatives to the specific needs of the village community, while drawing the attention of the international community to distinct goals. In undertaking such issues as road building, water supply, and electricity, The Foundation will stress the need for reliability, accountability, and sustainability in the infrastructure of Sierra Leone.
In November 2007, Washington and the Gondobay Manga Foundation opened its first school, Chief Foday Golia Memorial School, in the Njala Kendema village for 150 students in grades K-5. The new school, named in honor of the former leader of the village, replaces two grass huts not suited for occupants. In addition to building the school, Washington and the Gondobay Manga Foundation donated uniforms and school supplies for each student.
Washington has also been involved in the computer reconstruction efforts of Bunce Island, having donated $25,000 to the project. At the helm of the initiative are James Madison University professors Joseph Opala and Gary Chatelain, a historian and computer artist who are using their expertise to reconstruct the slave castle as it appeared in the year 1805. Their computer image will eventually serve as an educational tool for scholars.
A man of great patriotism, Washington honorably served in the United States Air Force, and currently works with the LA Regional Food Bank to provide food for the needy in Los Angeles. Active in promoting the arts, he hosted the recent 16th Annual Pan-African Film Festival. Washington was the Master of Ceremonies for the first White House Summit on Malaria to fight the war against malaria in 15 African countries, and in 2008 attended the 63rd United Nations General Assembly in New York City as an advisor to President Ernest Bai Koroma of the Republic of Sierra Leone. Following this event, President Koroma traveled to Washington, D.C. and announced that Washington would be granted full citizenship of Sierra Leone. This historical citizenship declaration made Washington the first African-American to receive such an honor and President Ernest Bai Koroma the first African President to perform such an act. Finalized in December of 2008, it concluded a longtime dream of dual citizenship for African-Americans by Pan African pioneers such as W.E.B. DuBois, Kwame Nkrumah, Martin Luther King, Jr., Adam Clayton Powell, Jr., Horace Mann Bond, Ralph Bunche, Malcolm X, Marcus Garvey, Edward Wilmot Blyden and Rev. Leon Sullivan.
Washington continues in his efforts to help strengthen the communities of Sierra Leone, working towards creating a better future for its people and its children.
Washington also stars in the new feature Blackbird, a family drama based on the Larry Duplechan novel.
Speech Topics
---
A Man from Another Land: How Finding My Roots Changed My Life
In an entirely new program, and the only one of its kind, actor and activist Isaiah Washington leads audiences on an exploration of heritage and genetics. As the first American to be granted African dual citizenship based solely on DNA testing, Washington delivers a compelling program on genetic testing that will inspire people to question—and possibly discover for the first time—their true roots.
A comprehensive, thought-provoking session, this event includes:
A lecture followed by Q&A and book signing.
Two free DNA kits for campus members with results available the night of the program.
A visit by Washington on campus or within your community.
Genealogy, Genetics & African American History
Shaking the Family Tree: The Biology That Binds Us
Related Speakers View all
---
Jurnee Smollett

Actress & Singer

Archbishop Desmond Tutu

Nobel Laureate & Human Rights Activist

Chris Mburu

Human Rights Activist

Jesse Jackson

Civil Rights Activist & Politician

Asra Nomani

Journalist & Author, Women's Rights Activist

Hill Harper

Actor, Author & Philanthropist; Best Known For "CSI:...

America Ferrera

Award-Winning Actress, Producer & Humanitarian

Iran Hikers

Shane Bauer, Josh Fattal & Sarah Shourd

John Dau

Sudanese Refugee & Activist

Jalen Rose

ESPN Analyst & Former NBA Player

Kevin Powell

Writer, Humanitarian, President of BK Nation

Raj Patel

Award-Winning Writer, Activist & Academic

Maria Bello

Actress, Activist and Vital Voices Global Ambassador

Judge Greg Mathis

Civil Rights Activist, Television Personality

Louis Gossett Jr.

Oscar-Winning Actor & Founder of the Eracism Foundation

Richard Dreyfuss

Academy Award-Winning Actor

Somaly Mam

Survivor & Anti-Sex Slavery Activist

Sheryl WuDunn

Pulitzer Prize-Winning Journalist; Co-author of Half...

John Zogby

Trendspotter & Leading Pollster

Alexandra Cousteau

Environmental Activist, Storyteller & Ocean Advocate
More like Isaiah