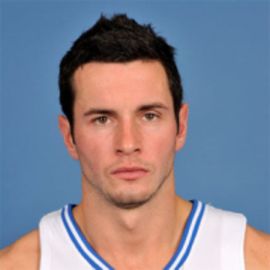 Jonathan Clay "J. J." Redick (born June 24, 1984) is an American professional basketball player who plays for the Los Angeles Clippers of the NBA. He was selected 11th overall by the Orlando Magic in the 2006 NBA Draft. During his collegiate years, Redick played for Duke University. Redick's jersey was retired by Duke on February 4, 2007.
Redick is known for his free throw and three-point shooting. He set ACC records during his career for most points and most career ACC tournament points, though his ACC career points record was subsequently broken by UNC's Tyler Hansbrough in 2009. He also set several Duke records, including most points in a single season. Redick is currently the all-time leading scorer for Duke.
Redick was a member of the 2003 USA Men's Junior World Championship Team. In 2005, he competed with the USA Basketball Under-21 Team, in Frisco, Texas, which won gold medals at the World Championships and the Global Games. In 2006, Redick was named to the USA Men's 2006–2008 National Team Program. He competed for a spot with the 2008 Olympic Team, but was not placed on the final roster. A recurring back injury kept him from competing in the 2007 FIBA Americas Championship.