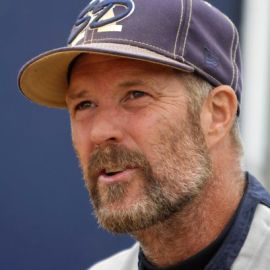 Jack Burns McDowell is a former Major League Baseball player. A right-handed pitcher, McDowell played for the Chicago White Sox, New York Yankees, Cleveland Indians and Anaheim Angels. Nicknamed "Black Jack", he was a three time All-Star and won the American League Cy Young Award in 1993.
McDowell was drafted by the Chicago White Sox in the first round (fifth pick) of the 1987 amateur draft. After only six games in the minor leagues, he made his Major League debut on September 15, 1987. He pitched seven shutout innings against the Minnesota Twins that day to pick up the win. In four starts, he was 3-0 with a 1.93 ERA.
In 1988, he was 5-10 with a 3.97 ERA in 26 starts for the White Sox, but in 1989, while dealing with various injuries he did not pitch in the Majors, making 16 starts for the AAA Vancouver Canadians, where he was 5-6 with a 6.13 ERA.
By the early 1990s, he had established himself as one of the most dependable pitchers in the game, pitching effectively and recording over 250 innings each season from 1991 to 1993, he was selected to the Major League Baseball All-Star Game each of those years. He won 20 games in 1992 and 22 in 1993, when he won the American League Cy Young Award and led the White Sox to the postseason (they lost in the 1993 American League Championship Series to the Toronto Blue Jays). From 1988 until 1995, his season ERA was consistently between 3.00 and 4.00, well below the league average. In 1993, he set a modern (post-1950) record by recording a decision in each of his first 27 starts.
On January 29, 2014, McDowell announced on his Facebook page that he had been hired to manage the Los Angeles Dodgers Rookie League affiliate, the Ogden Raptors, in the Pioneer League (baseball). In 2015, he was named manager of the Arizona League Dodgers. The Dodgers dismissed him after the season.
On March 2, 2017, Queens University of Charlotte, in Charlotte, North Carolina, announced that McDowell will lead as head coach to its new baseball team. The team will compete in its first season in 2018 as a club sport before entering Division II competition the following season.
McDowell has also been a professional musician, most notably with the rock band, Stickfigure.
Videos
---