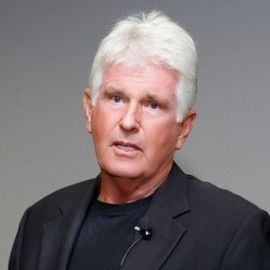 Jack Sims is one of those rare people who started his business education at the age of 11, by working in his parents Mom & Pop store in England. That's where he first learned the importance of customers and treating them correctly.
This awareness of looking after your customers, keeping your promises and developing a brand that people will go out of their way to get, and pay a premium price for, has stood the test of time. Starting in the embryonic promotional marketing industry he quickly realized that to attain substantial business growth that forward-thinking companies are looking for, they must make sure that their marketing, branding and business basics are on track. This is the same thinking he used when he started his first company in the UK, and it worked, becoming consistently ranked as one of the top creative groups in the country.
He came to America and opened his marketing agency out of his apartment in White Plains, NY. It quickly gained its own brand awareness, which led to gaining clients who are some of the biggest and best brands on the planet -- companies like Polaroid, British Airways, Burger King, Lever, General Foods, Nestle signed on as retainer clients. His company won the promotional marketing industry's highest awards, not once but twice, on the way to becoming the No. 1 ranked and largest marketing agency in the country, and it retained that position two years in a row. Jack's vision is all about moving the business, brand or market share growth needle, and this comes through in every project he works on.
After selling his business to Wall Street, Jack wrote his first book, "Growing small businesses into Big Brands," which explains the step-by-step process of how to build a successful brand, and it is now in its third printing. As a member of NSA, he has been giving his keynote speaking sessions to audiences across the Americas and was voted "Best Keynote Speaker" by meeting planner readers of Meetings & Conventions.
One of Jack's dreams was to become a golf teaching professional and try to incorporate the disciplines, thinking and action steps that made him a winner in business into the golf teaching arena. He went through golf teaching Q School and has been a professional for 12 years.
This is what makes Jack Sims truly unique in the world of keynote speaking; he brings the very best of worlds, business and sports, at the highest level. Audiences leave with information that they just simply could not get with any credibility anywhere else.
Jack's keynote speaking sessions are high powered, high on content and will absolutely blow your audience away. He has no equal when it comes to delivering this unique keynote session. It is his own experiences, his journey, that audiences get when they see Jack on stage. He found out by walking the walk of founding businesses, playing golf at the highest level by playing for his adopted country in the Caribbean Championships for 11 years in a row and from getting rave reviews from the golf students he teaches, that there is a very definite correlation between the way that great business leaders and winning golfers, think and act. They do the same things, but they do it in very different ways, but the net result is that they are WINNERS, and that's what the audience will get from seeing and listening to Jacks' keynote "How to Seriously WIN at Business & Golf."
In addition, Jack still consults for companies who are looking for some serious growth while appearing on TV and radio shows as a business growth expert and speaking to corporations and associations who are looking to improve their business bottom line through marketing, branding and the business basics. Just a few of the corporations he has spoken for are: Harley-Davidson, Novartis, Panasonic, LexisNexis, Washington Group International, and he also speaks for associations as diverse as American Perfume Society, Industrial Fabrics Association, American Locksmith's, National Frame Building Association and dozens more.
Speech Topics
---
Speech Topics
Growing Businesses into Brands
The Business of Growing Businesses
Leadership in Today's Marketplace (Top 10 Leadership Traits of Really Successful People)
Inspire Your Way to Business Success
Jack Up Your Brand
Most Marketing Stinks
Books
---
Related Speakers View all
---
Josh Linkner

Five-Time Tech Entrepreneur; Hyper-Growth CEO; NY Ti...

George Hedley

Construction Business Owner; Providing "Hands-on," F...

Paul Orfalea

Founder of Kinko's, Philanthropist-Chairman of the O...

Sam Geist

Consultant / Facilitator

Barbara Corcoran

Real Estate Entrepreneur, Angel Investor, Author & C...

Alexander Blass

Grand Prize Winner, Top Innovator of the Year Award,...

Ed Rigsbee

Authority on Partnering, Alliances and Business Rela...

Sara Blakely

Founder & CEO of SPANX

Troy Hazard

Troy Hazard is the recent Global President of the el...

Mark C. Thompson

Executive Coach & Author

Michael Treacy

Best-Selling Author, Entrepreneur & Business Adviser

Jeff Taylor

Founder of Monster.com & Eons.com

Tim Sanders

Bestselling Author, Technology Pioneer, Expert on Co...

Dr. Nido Qubein

Award-Winning Speaker and Author, President of High ...

Howard Putnam

Former CEO of Southwest Airlines

Don Peppers

Marketing and Sales Futurist; Customer Experience Th...

Geoffrey Moore

Organizational Theorist, Management Consultant & Author

Jim McCann

President & CEO of 1-800-FLOWERS.COM

Mark Victor Hansen

Founder & Author of Chicken Soup for the Soul Book S...

David Goldsmith

Business Forecaster & Leadership-Management Expert
More like Jack