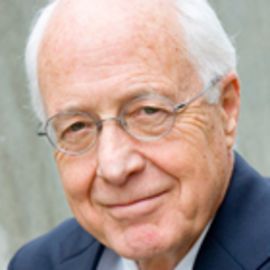 John H. Jack Zenger is the co-founder and CEO of Zenger Folkman, a professional services firm providing consulting, leadership development programs and implementation software for organizational effectiveness initiatives. He is considered a world expert in the field of leadership development, and is a highly respected and sought after speaker, consultant and executive coach. Dr. Zenger speaks on a variety of topics, including Leadership Development, Motivation, Employee Engagement, Teamwork & Collaboration, and Change Management.
Jack's career has combined entrepreneurial, corporate and academic activities. In 1977 he co-founded Zenger-Miller and served as its President and CEO until 1991. The Wall St. Journal named it one of the 10 best suppliers of executive development. He later became the President of Provant, a publicly traded combination of 21 companies in the training industry. From 1966 to 1977 he was Vice President of Human Resources for Syntex Corporation, and from 1992 to 1996 was a Group Vice President of the Times Mirror Corporation.
His academic experience includes serving on the faculty at USC and later teaching at the Stanford Graduate School of Business.
In 2011, he was honored with the American Society of Training and Development's Lifetime Achievement in Workplace Learning and Performance Award, given to a sole recipient per year. Because of his contributions to the field of leadership development and training, Jack was inducted into the Human Resources Development Hall of Fame. His colleagues in the training industry awarded him the Thought Leadership Award in 2007. He and his wife Holly both received honorary doctoral degrees from Utah Valley University.
He received a doctorate in Business Administration from the University of Southern California, an MBA degree from UCLA and a bachelor's degree in Psychology from Brigham Young University. Jack served as the Chairman of the Board of Trustees of Utah Valley University and currently is a Regent for the higher education system in the State of Utah.
Jack has authored or co-authored 50 articles on leadership, productivity, e-learning, training and measurement. He is the co-author of several books on leadership, Results-Based Leadership, voted by SHRM as the Best Business Book in the year 2000, and the best selling The Extraordinary Leader: Turning Good Managers into Great Leaders, as well as Handbook for Leaders, The Inspiring Leader: Unlocking the Secrets of How Extraordinary Leaders Motivate and The Extraordinary Coach: How the Best Leaders Help Others Grow. He is the author of two books on productivity improvement: Not just for CEO's – Sure-Fire Success Secrets for the Leader in Each of Us and Making 2 + 2 = 5: 22 Action Steps to Boost Productivity. He is a co-author of three books on teams, including the best selling, Self-Directed Work Teams: The New American Challenge, Leading Teams and Keeping Teams on Track.
Related Speakers View all
---
Mark DeVolder

Change Management & Employee Engagement Expert

Haydn Shaw

Expert in Generational and Cross-functional Roles, C...

Doug Lipp

Former Head of Training at Walt Disney University & ...

Adrian Gostick

Founder of The Culture Works & Bestselling Author of...

Eduardo Briceño

Growth Mindset and Improvement Expert; Co-Founder & ...

Libby Gill

Leadership Expert, Executive Coach & Award-Winning A...

J.R. Martinez

Actor, Best-Selling Author, Motivational Speaker, Ad...

Seth Mattison

Co-Founder & Chief Movement Officer of Luminate Labs...

Pat Williams

Motivational Speaker & Sports Executive; Senior Vice...

Bill Capodagli

Author of "Innovate the Pixar Way: Business Lessons ...

Vince Poscente

Former Olympic Speed Skier, Leadership & Sales Exper...

Story Musgrave, M.D.

Retired NASA Astronaut; Physician & Professor at Art...

Brian Holloway

Five-Time NFL All-Pro; Motivation & Team Building Ex...

Stedman Graham

Chairman & CEO of S. Graham & Associates, Leadership...

Josh Linkner

Five-Time Tech entrepreneur, Hyper-Growth CEO, New Y...

Brian Solis

Digital Analyst, Futurist & Author of "What's the Fu...

Mitch Lowe

Co-founding Executive of Netflix & President of RedBox

Bill Rancic

"The Apprentice" Winner; Entrepreneur; Star of "Giul...

Howard Putnam

Former CEO of Southwest Airlines

Chester Elton

#1 Bestselling Business Author, Organizational Cultu...
More like Jack