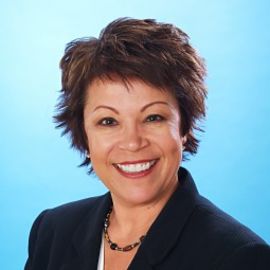 Jackie Pflug has an amazing story to share with your people.
However, more importantly, are the messages your people will hear for the first time, as well as those messages that people need to be reminded of on a regular basis.
Her presentation, The Courage to Succeed, has been delivered throughout North America, and her book "Miles to Go Before I Sleep" continues to influence peoples' attitudes, values, and behaviors long after the last page has been read.
On November 24, 1985, Jackie woke up just like any other person. Later that evening she was on a flight from Athens, Greece bound for Cairo, Egypt. Her life would never be the same.
Ten minutes after takeoff, three men calling themselves the Egypt Revolution began to wave their guns and proceeded to take control of the airplane, and the lives of every person onboard.
59 passengers would not live and their lives were ended either by execution or the ensuing gun battle between authorities and the hijackers or by fire and smoke inhalation when the plane exploded. With the exception of 9/11, this was the single largest act of terrorism, and would set the stage for a new world of change and challenge.
At the time, Jackie's life was filled with the everyday hopes and fears of being a daughter, wife, teacher, and friend to many. As with most people, it was the little things that bothered her, and kept her from taking risks, being real, and reaching her potential. In 2003, she added the role of cancer survivor to her experiences, and is uniquely qualified to be with your group.
Today she speaks and shares a message of hope, like few others do. Her presentation boosts morale and inspires people to do and be their best on a daily basis. Her message is universal, touches hearts, and engages minds of all ages and backgrounds.
People walk away with a renewed sense of spirit, purpose, and will-do.
Videos
---
Related Speakers View all
---
Eileen McDargh, CSP, CPAE

Healthcare Consultant & Author of "The Resilent Spirit"

Marci Shimoff

Co-Author of "Chicken Soup for the Woman's Soul"

Dave Pelzer

Motivational Leader; Best-selling Author of "A Child...

Shannon Miller

Olympic Gold Medalist, Health Advocate & Cancer Surv...

Roger Crawford

Hall of Fame Athlete; First & Only US Professional T...

Charlie Alejandro

Motivational Speaker, Writer, Actress & Radio Talk S...

Allison Massari

Executive Coach, Entrepreneur, Visual Artist & Burn ...

Montel Williams

Emmy Award-Winning Talk Show Host Best Known For "Th...

John Foppe

Motivational Speaker & Author; Founder of Visionary ...

Christine Cashen

Hall of Fame Motivational Speaker; Author of "The Go...

Dan Buettner

National Geographic Writer, Renowned Explorer & Auth...

Les Brown

Motivator, TV Personality & Best-Selling Author

Robyn Benincasa

World Champion Adventure Racer & Best-Selling Author

Linda Armstrong Kelly

Single Mother of Lance Armstrong; Philanthropist & A...

Cherise Bopape

Author, Freelance Writer

Andy Mouncey

Ultra-distance Athlete, Author, Goal-Setting Expert

Tonisha Pinckney

Empowerment Beyond Victimization - Author of I AM MO...

Mike Schlappi

Paralympic Medalist

Tina Marie Jones

Connecting with the audience through the style of a ...

Jessica Cox

World's First Armless Pilot & First Armless Black-Be...
More like Jackie