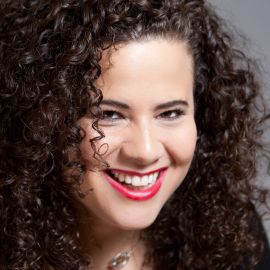 Jaclyn Friedman is a writer, educator and activist, and creator of four books including Yes Means Yes: Visions of Female Sexual Power and a World Without Rape and Unscrewed: Women, Sex, Power and How to Stop Letting the System Screw Us All. Her podcast, also called Unscrewed, is paving new paths to sexual liberation, and was named one of the Best Sex Podcasts by both Marie Claire and Esquire.
When she was a college undergraduate, Jaclyn thought she was too smart to become a victim of sexual assault - until another student proved her wrong. This experience eventually led her to become a student and instructor of IMPACT safety training, where she brought safety skills to the communities which most need them, including gang-involved high school students and women transitioning out of abusive relationships.
Jaclyn's hit book "Yes Means Yes: Visions of Female Sexual Power and a World Without Rape" placed No. 11 on Ms. Magazine's Top 100 Feminist Nonfiction of All Time list. Her two landmark pieces: the interview "F*cking While Feminist" and the highly personal polemic "My Sluthood, Myself," inspired thousands of responses and explorations across the blogosphere and beyond.
Jaclyn has been called "this generation's version of Dr. Ruth." She was named one of 2009's Top 40 Progressive Leaders Under 40 by the New Leaders Council. Jaclyn's newest book, "What You Really Really Want: The Smart Girl's Shame-Free Guide to Sex & Safety," was released in November 2011.
Her commentary has appeared in outlets including The New York Times, Vox, Time, The Washington Post, Glamour and The Guardian. Friedman is a founder and the former Executive Director of Women, Action & the Media, where she led the successful #FBrape campaign to apply Facebook's hate-speech ban to content that promotes gender-based violence.
Friedman is a founder and the executive director of Women, Action & the Media, a national organization working for gender justice in media. She is also a charter member of CounterQuo, a coalition dedicated to challenging the ways we respond to sexual violence. Friedman holds an MFA in Creative Writing from Emerson College.
Videos
---
Related Speakers View all
---
Andrea Pino

Women's & Civil Rights Activist; Founder of End Rape...

Jenny Lynn Anderson

Corporate Journalist, Sexual Assault Survivor & Auth...

Jessika Rovell

Attorney, Naval Intelligence Officer, and Sexual Vio...

Amanda Nguyen

2019 Nobel Peace Prize Nominee & CEO and Founder of ...

Kori Cioca

U.S. Coast Guard Veteran, Sexual Assault Survivor & ...

Dr. Lindsey Doe

Clinical Sexologist and Sex Educator, Known for the ...

Katie Hnida

Advocate Against Sexual Violence, First Woman to Pla...

Sparkle

Platinum Singer & Songwriter; Featured in Lifetime's...

Don McPherson

Activist, Educator, Feminist, Entrepreneur, College ...

Elizabeth Smart

Abduction Survivor, News Correspondent & Child Safet...

Amber Madison

Sex & Relationship Therapist, Author, & Co-Founder o...

Adama Iwu

Senior Director, Government Relations, Visa, co-foun...

Diane Rosenfeld

Law Professor & Director of the Gender Violence Prog...

Jamilah Lemieux

Writer, Cultural Critic, Columnist at Slate, Co-Host...

Nel Noddings

Feminist, Educationalist & Philosopher

Erin Merryn

Author, Child Abuse Advocate & Activist for "Erin's ...

Amy Ziering

Producer & Documentary Filmmaker; Known for "The Inv...

Loretta Ross

Founder, SisterSong Women of Color Reproductive Heal...

Irin Carmon

Journalist, Senior Correspondent at New York Magazin...

Ai-jen Poo

Director of the National Domestic Workers Alliance &...
More like Jaclyn