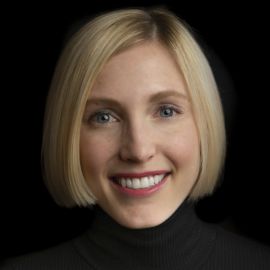 Jaime Alexandra Neely
Corporate Culture and Innovation Expert, Futurist & Chief Culture Officer at Trend Hunter
Jaime Neely is the Chief Culture Officer at Trend Hunter. She's the creator of the Trend Hunter Innovation Assessment, a mainstage Future Festival presenter, and has helped brands such as Staples, McCormick, Mastercard, Snyder's-Lance and Universal learn how to innovate through custom in-office trend sessions and workshops. She specializes in corporate culture, consumer lifestyle, health and wellness, and technology.
Jaime's expertise and passion lies in the development of culture programs and innovation assessments for the world's best innovation teams. Her Trend Hunter Innovation Assessment has been taken by more than 30,000 innovation leaders who use the tool to benchmark their innovation strengths and better understand their blind spots. Prior to her work on culture, Jaime joined Trend Hunter as an editor in 2011, where she supervised the creation of more than 60,000 articles, attracting over a billion views. When she isn't working as a keynote speaker, Jaime manages Trend Hunter's team growth.
Videos
---
Speech Topics
---
Modern Work Culture
Explore the ever-evolving dynamics of today's workforce and learn why your organization's success depends on understanding and applying the 4 'E's of modern work culture. We will highlight insights, statistics and implications gleaned from the Trend Hunter Innovation Assessment, revealing what's holding you back from building your best team yet.
Future-Proofing Work Culture
Deep-diving the new definition of work/life balance, using statistics from Trend Hunter's Innovation Assessment. Throughout this presentation, we will explore the concept of internal and external reputation, the pros and cons of a multigenerational office, and ultimately answer the question: what does today's consumer -- perhaps even your own employees -- consider a good corporate culture?
Future Technology & AI
Not only does Trend Hunter integrate futurism and technology into its brand DNA, we also work with some of the world's tech companies, such as Panasonic and Sony. In the digital age, brands from all categories are expected to leverage technology. How can your company stay connected, literally and figuratively?
Max Impact Marketing
Modern technology has shifted how consumers engage with brands, and it's no longer enough for ads to be entertaining and memorable. Uncover tactics for leveraging the future of marketing tech, authenticity and brand love to create impactful marketing strategies.
Related Speakers View all
---
Ady Floyd

Senior Research Manager Advisor to 50+ Leading Brand...

Gil Haddi

Innovation Process Specialist, Futurist & SVP of Cli...

Grant McCracken

Author & Cultural Anthropologist

Seth Mattison

Co-Founder & Chief Movement Officer of Luminate Labs...

Charlene Li

Expert on Social Media & Marketing; Author of Bestse...

David Weinberger

Technology Expert & Marketing Guru

Tim Sanders

Bestselling Author, Technology Pioneer, Expert on Co...

Dr. Jackie Freiberg

Corporate Culture & Leadership Strategist, Best-Sell...

Richard Florida

Leading Urbanist, Economist & Author of "The Rise of...

Carly Fiorina

Businesswoman, First Woman to Lead a Fortune Top 20 ...

Jim Carroll

One of the World's Leading Global Futurists, Trends ...

Cate Trotter

Head of Trends at Insider Trends

Francis Pierrel

Global Brand President & CEO at Club Monaco

Courtney Scharf

Consumer Behavior and Work Flow Expert, Futurist & C...

Jonathon Brown

Chief Growth Officer at Trend Hunter

Armida Ascano

Consumer Behavior & Generational Trends Expert, Futu...

Andrew Rashbass

Executive Chairman Euromoney Institutional Investor;...

Daniel Levine

Leading Expert on Consumer Trends

Eric Ryan

Co-Founder & Chief Brand Architect, Method Products,...

Soraya Darabi

Renowned Digital Entrepreneur; Social Media Pioneer
More like Jaime