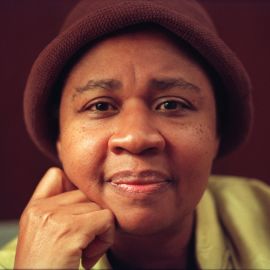 Jamaica Kincaid
Antiguan-American Novelist, Essayist and Gardener
With her books and novels, including "Annie John," "Lucy," "At the Bottom of the River" and the controversial "A Small Place," Kincaid has carved out a unique and cherished place in the American literary landscape. Strikingly honest — and with what Susan Sontag praised as "an emotional truthfulness" — she vividly describes the difficult coming-of-age of strong-minded girls who, very much like herself, were born into tropical poverty.
An evening with Kincaid brings forth the distinctive, melodic style of a celebrated author who appeals to audiences across generations and ethnic boundaries. Whether by speech, onstage interview, class discussion or workshop, listeners are taken on an intimate journey into the writer's life and motivation.
Kincaid's literary "voice" is deeply rooted in her experiences as a child in her native Antigua and her tempestuous relationship with her mother. Growing up under the colonial rule of England instilled in her a tragic, yet often-ignored perspective that echoes through all of her writing. Says Kincaid, "I never give up thinking about the way I came into the world, how my ancestors came from Africa to the West Indies as slaves. I just never forget it. It's like a big wave that's still pulsing."
At the age of 17, Kincaid left Antigua to work as an au pair, or what she describes as "a servant," for an upper class family in New York City. She went on to study photography and then to a brief stay at Franconia College in New Hampshire before returning to New York.
As a writer for The Village Voice and Ingenue magazine, Kincaid drew the attention of William Shawn (then editor of The New Yorker) with her literary instincts and descriptive sensibilities. She became a staff writer for The New Yorker in 1976 and a featured columnist for its "Talk of the Town" section for the next nine years.
Her other books include: "Annie, Gwen, Lilly, Pam and Tulip"; "Autobiography of My Mother"; "My Brother"; "Talk Stories" and "Mr. Potter." An avid gardener and the author of "My Garden" (Book), Kincaid's book, "Among Flowers: A Walk in the Himalayas," is about her adventure in the mountains of Nepal with a group of botanists.
Her work has received wide critical acclaim. She won the Morton Dauwen Zabel Award from the American Academy and Institute of Arts for her first book, At the Bottom of the River. In 1992 she was invited to teach at Harvard University, where she is now a visiting professor.
In 2004 she was elected to the American Academy of Arts and Letters.
Related Speakers View all
---
Edwidge Danticat

Haitian-American Novelist and Short Story Author

Alice Walker

Author, The Color Purple

Toni Morrison

Nobel & Pulitzer Prize-Winning Author; Professor Eme...

Julia Alvarez

Dominican-American Poet, Novelist and Essayist; Know...

Junot Díaz

Dominican-American Writer Known For "This is How You...

Derek Walcott

Nobel Prize-Winning Poet and Playwright.

Maxine Hong Kingston

Novelist / Poet

Cory Booker

US Senator from New Jersey and Author of "United"

Teju Cole

Nigerian-American Author of "Open City"

Michael Elliot

African-American Screenwriter of Award-winning Urban...

John Ridley

Oscar Winning Writer, '12 Years a Slave,' 'American ...

Jennifer Pharr

Long-Distance Hiker and Author; Overall Record Holde...

Antonio Pierce

Super Bowl Champion, New York Giants, ESPN Football ...

Bright Simons

President of MPedigree

Daniel Beaty

Award-Winning Writer, Composer & Performer

Neema Namadamu

Activist Democratic Republic of Congo

Bilal Bomani

Bilal Bomani runs NASA's Greenlab research facility,...

LZ Granderson

CNN and ESPN Columnist; Celebrated Voice on Sports, ...

Faith Jegede Cole

Writer Faith Jegede draws on her experiences growing...

Malcolm London

Young Poet, Educator and Activist Known for his TED ...
More like Jamaica