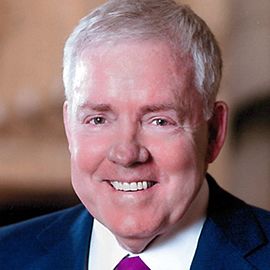 Jim Barksdale is a Special Advisor to General Atlantic Partners and is President and CEO of Barksdale Management Corporation, a philanthropic investment company. He is also a partner and co-founder of The Barksdale Group. He has over 35 years of operational experience.
Prior to founding The Barksdale Group, an investment and advisory group committed exclusively to growing companies in internet services, Barksdale served as President & CEO of Netscape Communications Corp. from January 1995 until the company merged with America Online in March of 1999. He was Director of Netscape from October 1994. Upon completion of the merger with America Online, Jim joined AOL's Board of Directors.
Prior to Netscape, Barksdale worked at AT&T Wireless Services (formerly McCaw Cellular Communications) as their Chief Executive Officer. From April 1983 to January 1992, he served as the Executive Vice President and Chief Operating Officer for Federal Express Corporation, overseeing the company's growth from $1 billion to $7.7 billion in revenues and its expansion into 135 countries. Under his leadership, Federal Express became the first service company to receive the Malcolm Baldrige National Quality Award. Prior to that, Barksdale was FedEx's Chief Information Officer for four years. Prior to FedEx, he held various management positions, including Chief Information Officer with Cook Industries and started his career at IBM.
In January 2000, Barksdale and his wife gave $100 million to the State of Mississippi to create a statewide reading institute, The Barksdale Reading Institute. This is a joint venture with the Mississippi Department of Education and the state's seven public university schools of education.
In 1997, Netscape received the "Entrepreneurial Company of the Year" award from both Stanford and Harvard Business Schools alumni groups. Computer Reseller News named Barksdale "#1 Executive of the Year," PC Magazine named him "Person of the Year," and at the 1997 ETRE Conference in Budapest he received the "Executive of the Year" award. Jim has also received awards such as the BEAR Award from Brown University for citizenship, the Headwave Award from the State of Mississippi, and a NetDay Hero award for his work for education. He has also been inducted into the Ole Miss Hall of Fame, the Mississippi Hall of Fame and the Society of Entrepreneurs.
Barksdale sits on the boards of several companies and foundations, including AOL Time Warner; Federal Express; The Fund for the Capitol Visitor Center; Mayo Foundation; Sun Microsystems, Inc., and TechNet. He was also appointed to the President's Foreign Intelligence Advisory Board by President George W. Bush.
Barksdale received his B.A. in Business Administration from the University of Mississippi.
Related Speakers View all
---
Jason Kottke

Designer of Silkscreen Typeface, Lifetime Achievemen...

Parag Khanna

Leading Geo-Strategist & Author

An Phung

Multimedia Journalist

Brian Hoffstein

Contributing Writer

Jeffrey Israel

Jeffrey Israel has taught religion and political phi...

Peter Thiel

Former CEO and Co-founder of PayPal; Technology Entr...

Graham Hill

Founder of Life Edited & TreeHugger.com

Reihan Salam

President of the Manhattan Group for Policy Research...

Peter Rojas

Co-founder of Gizmodo and of Engadget

Virginia Postrel

Author & Columnist; Writes on The Intersection of Co...

Josh Lieb

Executive Producer, "The Daily Show"

Neil Giuliano

Gay Rights Activist & President and CEO of Greater P...

Cody Adams

Managing Editor of The Floating University.

Dr. Anthony Fauci

Director, National Institute of Allergy and Infectio...

Moby

Musician, DJ, Photographer

Tom Freston

Principal, Firefly3; Former CEO, Viacom Inc.

Matt Bai

Nationally Known Journalist, Author & Screenwriter; ...

Adam Bly

Ex-VP of Data at Spotify; Founder of Seed; Founder o...

Ingrid Newkirk

President, PETA

Matthew C. Nisbet

Professor of Communication, American University
More like James