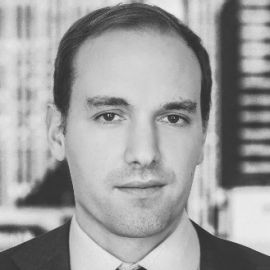 James Blake
Journalist, Analyst & Advisor
James M. Blake is a journalist, analyst and advisor with over a decade of experience at the intersection of international security, humanitarian crises, and refugee and migration issues. He has advised leadership of international organizations including the International Monetary Fund, the International Rescue Committee, and several world leaders through the Mayors Migration Council.
James has experience working with specialized research firms, geopolitical consultancies, strategic communications and advisory firms to design innovative risk assessment tools, resilience training and preparedness plans for companies operating in fragile and conflict-affected states. He has written risk assessments on terrorism and geopolitical issues for some of the world's largest companies, which includes working with Aon Insurance on evaluating terrorism and political violence risks and mitigation efforts.
James regularly publishes articles and investigative work for outlets such as Foreign Policy, Jane's Intelligence Review, and the New Humanitarian, among others. He is designated as a global expert by Duco, the global consultancy, and is a member of the International Crisis Group's Ambassador Council.
In February 2020, James alerted the international community to the humanitarian and human rights crisis as a result of the US migration policies in Central America through research, interviews and analysis across Central America, including in Guatemala, El Salvador and Mexico. His recent investigations in the region focus on human rights issues, fentanyl smuggling into the US and criminal gangs.
James has provided expert comment on political and security issues to a range of media outlets, including the BBC, Channel 4 News (UK) and CBC (Canada). He has spoken at large conferences on issues of migration, international security and preparation including for the World Affairs Forum, Global Interagency Security Forum, the New York and DC Analysts' Roundtables, and given briefings for multinational companies on security and political and terrorism risk such as for J.P. Morgan, Deutsche Bank, Aon Insurance. Additionally, he has given guest lectures on humanitarian action at universities including Metropolitan College of New York.
Speech Topics
---
The coming migration and refugee crisis - and how the US and global cities must lead the efforts to prepare for it
How the intelligence agencies and homeland security apparatus must respond to the rise of extreme right-wing terrorism
Mexican cartels and how to solve the fentanyl crisis in the US based on my time in Mexico investigating the issue
How the leading companies and NGOs prepare and respond to international crises
Disinformation and the risk to the US elections - and how to combat it
Tails from responding to COVID-19 in conflict zones across the Middle East
Protecting human rights in a world in turmoil