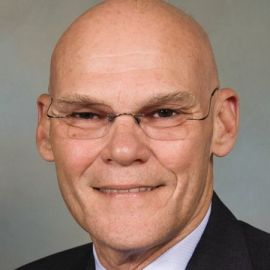 James "The Ragin' Cajun" Carville is America's best-known political consultant. His long list of electoral successes evidences a knack for steering overlooked campaigns to unexpected landslide victories and for re-making political underdogs into upset winners.
His winning streak began in 1986, when he managed the gubernatorial victory of Robert Casey in Pennsylvania. In 1987, Carville helped guide Wallace Wilkinson to the governor's seat in Kentucky. Carville continued his winning streak with wins in New Jersey with Frank Lautenberg elected to the US Senate. He next managed the successful 1990 gubernatorial campaign of Georgia's Lieutenant Governor Zell Miller, including a tough primary win over Atlanta mayor Andrew Young, and in 1991, Carvillewho had already become prominent in political circlesdrew national attention when he led Senator Harris Wofford from 40 points behind in the polls to an upset landslide victory over former Pennsylvania Governor and U.S. Attorney General Richard Thornburgh. But his most prominent victory was in 1992 when he helped William Jefferson Clinton win the Presidency.
In recent years, Carville has not been a paid political consultant for any domestic politicians or candidates for office, instead focusing on campaigns in more than 20 countries around the globe, including leading Ehud Barak to victory in his campaign to become the Prime Minister of Israel in 1999.
Carville is also a best-selling author, actor, producer, talk-show host, speaker and restaurateur. His titles include All's Fair: Love, War, and Running for President (with wife Mary Matalin); We're Right, They're Wrong: A Handbook for Spirited Progressives; And the Horse He Rode In On: The People vs. Kenneth Starr; Buck Up, Suck Up... and Come Back When You Foul Up; Had Enough? A Handbook for Fighting Back; Stickin': The Case for Loyalty; 40 More Years: How the Democrats will Rule the Next Generation (2009) and his most recent New York Times best seller, Its the Middle Class, Stupid! (July 2012), co-authored by Stan Greenberg. He also authored a childrens book entitled Lu and the Swamp Ghost.
Along with pollster Stanley Greenberg, Carville founded Democracy Corps, an independent, non-profit polling organization dedicated to making government more responsive to the American people. Democracy Corps has conducted over 200 national, congressional and local surveys, interviewing over 220,000 American voters during the past 10 years.
Carville is a frequent political commentator and contributor on CNN. He also serves as a Professor of Practice at Tulane University in New Orleans, where he lives with his wife Mary Matalin and their two daughters.
Speech Topics
---
James Carville Looks at Politics and the 2016 Race for the White House
The legendary, provocative and always timely James Carville presents his captivating views on American and international politics, spiced with his own unique brand of optimism and humor. This political mastermind and a fixture in US politics shares his thoughts on current events, the GOP-controlled Congress, the final years of the administration of Barack Obama, the 2016 Presidential election horserace and the challenges facing the major political parties and players. Carville discusses how, beginning in 2006, American political power started shifting between the two parties at a glacial pace with neither party holding onto the reigns of leadership for long. The highly partisan atmosphere in Washington and constant power shifts over the last few years have proven that the old rules of politics and power are gone—maybe forever. Why is this happening? Are politicians intentionally dividing the electorate for political gain? Why have things become so partisan? He dissects the extreme political forces shaping the country and shows what trends from the last two decades mean for our political future. Using data derived from the intersection of policy, politics and public opinion, Carville believes the real strength in America is the power of youth and that those wishing to maintain political power ignore this bloc at their own peril.
All's Fair: Love, War and Politics
One of America's best-loved political couples—James Carville and Mary Matalin—give audiences an enlightening and entertaining look at today's most important political issues, the 2016 race for the White House and a behind-the-scenes look at politics inside Washington. Matalin and Carville are key players on the national political stage—they each have over 30 years of experience in politics and have individually worked for Presidents Ronald Reagan, George H.W. Bush, Bill Clinton and George W. Bush. They combine their unique experiences to provide audiences with a stimulating, candid and provocative conversation from both sides of the political aisle.
Links
---
Related Speakers View all
---
Donna Brazile

Veteran Democratic Political Strategist, Adjunct Pro...

Arianna Huffington

Former President & Editor-in-Chief of The Huffington...

Ben Stein

Political Economist; Author and Actor; Cult Icon

Mary Matalin

Celebrated Conservative Voice and Former Presidentia...

John Stossel

Emmy-Award Winning Journalist & "20/20" Anchor and C...

George Stephanopoulos

Anchor, Good Morning America, This Week and Chief Po...

Katty Kay

Anchor, BBC World News America & Co-author, Womenomi...

David Gergen

Senior Political Analyst, CNN

Joe Scarborough

Co-Host of MSNBC's 'Morning Joe' and Former U.S. Con...

Van Jones

CNN Contributor; Best-Selling Author; Human Rights, ...

Laura Ingraham

Political Commentator, Radio Show Host & Journalist

Newt Gingrich

Gingrich Productions; Former Speaker of the House of...

Kevin Powell

Writer, Humanitarian, President of BK Nation

Mike Huckabee

Politician; Former Governor of Arkansas

Andrea Mitchell

Chief Foreign Affairs Correspondent at NBC; Host of ...

Bill Maher

Political Satirist & Host of HBO's "Real Time"

Ann Coulter

Bestselling Author and Political Commentator

Mika Brzezinski

Co-host of "Morning Joe" & Best-Selling Author of "...

George P. Bush

Political Activist, Entrepreneur & Public Servant

Rick Santorum

Leading Conservative Voice, 2016 & 2012 Republican P...
More like James