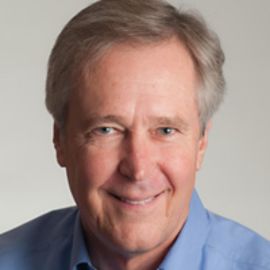 James Fallows is a national correspondent for The Atlantic and has written for the magazine since the late 1970s. He has reported extensively from outside the United States and once worked as President Carter's chief speechwriter. He has written ten books, including Blind into Baghdad, Postcards from Tomorrow Square, Breaking the News: How the Media Undermine American Democracy, and most recently China Airborne: The Test of China's Future. He has won the National Magazine Award and the American Book Award, a New York Emmy for a documentary series on China, and has done regular commentary for NPR since the 1980s.
James Fallows is a national correspondent for The Atlantic and has written for the magazine since the late 1970s. He has reported extensively from outside the United States and once worked as President Carter's chief speechwriter. His latest book is China Airborne. James Fallows is based in Washington as a national correspondent for The Atlantic. He has worked for the magazine for nearly 35 years and in that time has also lived in Seattle, Berkeley, Austin, Tokyo, Kuala Lumpur, Sydney, Shanghai, and Beijing. He was raised in Redlands, California, received his undergraduate degree in American history and literature from Harvard, and received a graduate degree in economics from Oxford as a Rhodes scholar. In addition to working for The Atlantic, he has spent two years as chief White House speechwriter for Jimmy Carter, two years as the editor of US News & World Report, and six months as a program designer at Microsoft. He is an instrument-rated private pilot.
Fallows has won the National Magazine Award for his 2002 story "Iraq: The Fifty-First State?" warning about the consequences of invading Iraq; he has been a finalist four other times. He has also won the American Book Award for nonfiction for his book National Defense and a N.Y. Emmy award for the documentary series Doing Business in China. He was the founding chairman of the New America Foundation. His recent books Blind Into Baghdad (2006) and Postcards From Tomorrow Square (2009) are based on his writings for The Atlantic. His latest book is China Airborne (2012). He is married to Deborah Fallows, author of the book Dreaming in Chinese. Together they have since 2013 been traveling across the United States for their American Futures project. They have two married sons.
Speech Topics
---
Doing Business in China: How to Get it Right in the Easiest Place on Earth to Get it Wrong
James Fallows delivers a monumental and richly-textured look at everything you need to know about doing business in China. And he means everything. Reporting from China since 2006, Fallows lucidly explains the economic, political, social, environmental and cultural forces that have transformed Chinafrom poverty to world superpowerat breakneck speed. What can American companies learn from China's growth, and why shouldn't we shudder in fear? To what degree are the Chinese and American economies intertwined? Why have most American companies in China remained profitable, even in the economic downturn? In customizable talks, Fallows unpacks the information relevant to your industry and provides a roadmap for sustained growth. Whether you have offices in China, or are thinking about expanding there, Fallows offers a fresh perspective, as well as invaluable advice on how to overcome cultural barriers, how to master negotiating with the Chinese, and how to avoid costly mistakes. This is a breathtaking talk that will help you understand the forces shaping the 21st Century.
Postcards from Tomorrow Square
Fallows shares the human stories, charts China's bumpy transition to democracy, and makes sense of both its economic explosion and its environment impactwhile showing us what its growth means for us. Foreign Policy: an American Perspective Fallows has covered the major foreign policy stories of our timefrom Iraq to North Korea to Iran to the Israeli-Palestinian conflict and beyond. In this talk, he delivers an unsparing look at the challenges to American foreign policy: our actions in various regions, how other countries perceive us, and how upheavals overseas will impact us. In particular, he dissects the planning and execution of the War in Iraq, pinpoints where it all went wrong, shows us what lies ahead, and draws valuable lessons for future military actions.
Related Speakers View all
---
Thomas Friedman

Three-Time Pulitzer Prize Winning Commentator, New Y...

Corby Kummer

Senior editor at The Atlantic

David G. Bradley

Chairman and Owner, Atlantic Media Company

Arianna Huffington

Former President & Editor-in-Chief of The Huffington...

Ronald Brownstein

Editorial Director for Strategic Partnerships, Atlan...

James Bennet

Editor in Chief, The Atlantic

Steve Clemons

Washington Editor at Large, The Atlantic

David M. Rubenstein

Co-Founder & Co-CEO of The Carlyle Group

David Leonhardt

Washington Bureau Chief, The New York Times

Eric Schmidt

Executive Chairman &d Former Chief Executive Officer...

Kai Ryssdal

Host, Senior Editor, American Public Media's "Market...

Mickey Edwards

Former US Congressman/Professor

Maria Bartiromo

Financial Journalist on Fox Business News; Former An...

Melody Barnes

Former Domestic Policy Advisor, Obama White House; C...

Walter Isaacson

President and CEO of the Aspen Institute

Elliot Gerson

Executive Vice President of Policy and Public Progra...

Katie Couric

Award-winning Journalist, Best-selling Author, & Co-...

Tim O'Reilly

Founder and CEO, O'Reilly Media

Kurt Andersen

Host, "Studio 360 from PRI and WNYC"; Author

Andrea Mitchell

Chief Foreign Affairs Correspondent at NBC; Host of ...
More like James