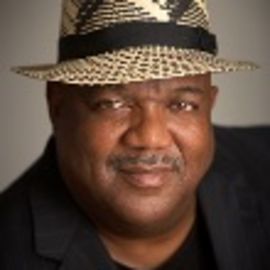 James Golden
"Bo Snerdley," Call screener, producer, and engineer for the syndicated Rush Limbaugh radio talk show
You've heard him on the Rush Limbaugh show as Rush's sidekick .. Now experience him in person!
A native New Yorker, James graduated Andrew Jackson High School in Queens, New York and attended Queens College.
During his high school years, he played in a local band and met then 13-year-old professional drummer Omar Hakim; who has since become an internationally acclaimed musician, producer, and Grammy nominated composer and artist. The two began collaborating on music and have written several hit songs as BMI writers and publishers. They remain close friends and collaborators.
During and after his high-school years, Golden also spent time assisting his cousin – Gerry Bledsoe, a well-known radio and Television personality at WWRL-AM, and WBLS-FM, and WPIX –TV in New York. He acquired production skills, as well as writing copy.
In his early twenties – he accepted a position at WWRL – as a Marketing and Research director, and later as the radio stations first Music Research director.
That led to a position at WABC-AM – the largest Top-40 radio station in America, as Music and Music Research director. Later – Golden would produce the last music program – and the station's first "talk" program, and spend the next nine years producing an assortment of diverse radio programs, becoming the senior producer for the ABC flagship station.
In addition to producing programs – James hosted television segments for NewsTalk Television – a Gannet property. In 1991 – he also became a weekend host for the WABC Talk radio – hosting highly rated broadcast on Saturday and Sunday evenings.
In 1991 – James began producing the Rush Limbaugh Program and also became known for his call screener persona "Bo Snerdley." He is also a contributing editor for the Limbaugh Letter, the most widely read political newsletter in America.
In 1998 – he accepted a part-time position with the program – in order to take a full time position with Internet start-up company Worldstream Communications, in Seattle. He was Vice President of Programming, responsible for 98 hours of weekly broadcast, and later moved to Vice President of Business Development.
Shortly before 2000, James relocated to Washington DC and established a media and political consulting firm – as well as continuing his part-time status with the Rush Limbaugh Program. He made regular appearances as a political commentator on Fox and MSNBC television networks, and a frequent guest on the ABC broadcast, Politically Incorrect.
In 2001 – after commuting to Florida on a weekly basis – he "flipped" the order of business – returning as a full time contributor of the Rush Limbaugh program – and a part-time partner with Golden Creative Communications.
Related Speakers View all
---
Buster Soaries

Senior Pastor of First Baptist Church, Lincoln Garde...

David Limbaugh

Attorney, Conservative Columnist & Author

Cal Thomas

Syndicated Columnist, Pundit, Author & Radio Comment...

Kay C. James

Motivational Speaker, Founder of the Gloucester Inst...

Steve Largent

Retired American Football Player & Former Member of ...

Michael DelGiorno

SuperTalk 99.7 Talk Show Host

Maurice Possley

Pulitzer Prize-winning Journalist, Author, Activist

David Aikman

Best-selling author & former TIME Magazine Sr. Corre...

Stephen Mansfield

Best-selling Author and Founder, The Mansfield Group

Joel Rosenberg

New York Times Bestselling Author, and Political Col...

Alan Keyes

Former US Ambassador to the UN Social & Economic Cou...

Janet Parshall

Motivational, Pro-Life Speaker, Moody Radio Talk Sho...

Mona Charen

Syndicated Columnist, Political Analyst & Author; Se...

David Brody

Interviewing America's Newsmakers

Kamal Saleem

Former Muslim and Founder of Koome Ministries

Michael Steele

Conservative Political Commentator & Former Republic...

Carolyn Castleberry

Carolyn Castleberry is an internationally-recognized...

Kevin Sorbo

International TV & Film Actor; Stroke Survivor; Aut...

General Georges Sada

Current Advisor to Iraqi Prime Minister Al-Maliki

Dr. Barry C. Black

Chaplain of the U. S. Senate
More like James