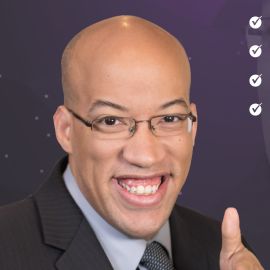 James Poindexter III, CC was born in the Bronx, NY but moved to West Virginia at an early age. At around ten years old he was abandoned by his parents in a house for a week until he realized that they were not coming back. From there James moved over twenty times between ten and fifteen years old and went to six junior highs and five high schools. During the process of dealing with all this adversity he discovered his will to win and desire to never back down from a challenge. James welcomed every trial just so he could prove he would come out on top. He wanted to prove to everyone that even though he was having a hard life that he was still going to be a success. As a result of this James achieved many great things such as the Army ROTC high company award and the Army ROTC scholastic excellence award while he was in school.
After being abandoned by his parents, James became a ward of the state at age 10 and stayed in the system until he aged out at 21. He went to 6 junior highs and 5 high schools and moved 21 times. James knows first hand what foster care is like.
Outside of school James was a two time West Virginia State Karate Champion, seven time National Karate Champion, World Martial Arts Champion, Silver medal in the World Cup of Martial Arts and Silver medal in the Goodwill Martial Arts Games. James was USA Martial Arts Team Captain and ranked number one in the World in Martial Arts for three years in a row. He got his Bachelor of Arts Degree from Fairmont University. James also gave the opening speech for Archbishop Desmond Tutu at the International Youth Advocate Conference. Now he wants to give his knowledge to others to help them answer the question: Do you want success?
Videos
---
Speech Topics
---
Defying The Odds
Being a former foster kid I understand what staff and parents go through on a day to day basis. I now thank all parents and staff for guiding me to success and for helping all kids in need have better lives. I am an example of what can happen with love and care from staff and foster parents. I tell my story of humility and gratefulness to all those in the industry who give themselves to help those in need. I follow my speech with a question/answer session at the end.
Audience: The foster care industry, especially social workers, therapists, foster parents, students majoring in social work or mental sciences and youth.
ABC- Always Be Closing
I've been a top salesman for 10 years across three different industries. I have sold mobile devices, property,casualty, life and health insurance and personal training packages. I was a top salesman in each industry. I give a step by step process to bring your sales to the championship level like mine. BEAST MODE!
Audience: Any salesman who wants to be a closer!
Think & Live Like A Champion
Obstacles didn't stop after foster care ended. I still had college issues, racism, homelessness and work life balance problems facing me in the future. The only way I was able to make it through was by applying the Champion Mindset to my life. I speak about how you can apply the Champion Mindset to your life and live on top of the podium on a daily basis! I also talk about how I started and maintain my business JH Brands! Think like a CHAMPION!! I have a question/ answer session at the end.
Audience: Big dreamers, business owners, future business owners, students majoring in management or entrepreneurship, high achievers and anyone who has a goal they want to achieve but need motivation to keep going forward. Attaining greatness is a hard and sometimes lonely road but it can be done and I can tell you how to do it! .
Related Speakers View all
---
Bill Wooditch

Founder, CEO, and president of The Wooditch Group

Jonathan Sandys

Speaking on the life & leadership of my great-grandf...

Kirstin Leigh

Kirstin Leigh has burst onto the ministry scene with...

Gary Greeno

Motivational Speaker, Coach, Educator

Paula McDade

Women's Empowerment & Leadership Speaker, Bestsellin...

Teena Jain

Teena Jain is the founder of Depression-Guide.com an...

Brandon Farbstein

At just 17, this internationally-acclaimed advocate ...

Stuart A. Sands

Professional Speaker, Author, and Consultant

Ashley Michelle Berry

Anti-Bullying Advocate, Actress, TV/Radio Host and P...

Kristina Saffran

Co-Founder & Chief Executive of Project HEAL; Eating...

Shane Salter

Executive Director at March of Dimes

Courtney Macavinta

Author & Esteem Coach

Val McLeod

Inspirational Influencer and Empowerment Speaker and...

Alonzo Mourning

Former Professional Basketball Player, Seven-time NB...

John Wood

Former Microsoft Marketing Executive & Founder and B...

Linda Armstrong Kelly

Single Mother of Lance Armstrong; Philanthropist & A...

B Janet Hibbs and Anthony Rostain

Experts on Student Mental Health, Family Relationshi...

Rob Scheer

Founder of Comfort Cases & Foster Care Advocate

Larry Komer, MD

Peak Performance Institute, Healthcare Innovation Ex...

Tavetta Patterson

Speaker, Author, Entrepreneur, Founder of Abundant L...
More like James