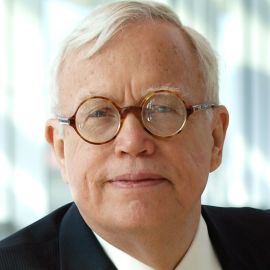 James Heckman
Henry Schultz Distinguished Service Professor of Economics at The University of Chicago, a Nobel Memorial Prize Winner in Economics, and an Expert in the Economics of Human Development
James J. Heckman is the Henry Schultz Distinguished Service Professor of Economics at The University of Chicago, a Nobel Memorial Prize winner in Economics, and an expert in the economics of human development. His groundbreaking work with a consortium of economists, developmental psychologists, sociologists, statisticians and neuroscientists has proven that the quality of early childhood development heavily influences health, economic and social outcomes for individuals and society at large. Heckman has proven that there are great economic gains to be had by investing in the early childhood development.
James Heckman received his B.A. in mathematics from Colorado College in 1965 and his Ph.D. in economics from Princeton University in 1971. He is currently the Henry Schultz Distinguished Service Professor of Economics at the University of Chicago where he has served since 1973 and where he directs the Economics Research Center and the Center for Social Program Evaluation at the Harris School. He is the Professor of Science and Society at University College Dublin. He is also a Senior Research Fellow at the American Bar Foundation.
Heckman's work has been devoted to the development of a scientific basis for economic policy evaluation, with special emphasis on models of individuals and disaggregated groups, and to the problems and possibilities created by heterogeneity, diversity, and unobserved counterfactual states. In the early 1990s, his pioneering research on the outcomes of people who obtain the GED certificate received national attention. His findings, which found great deficiencies in the alleged value of the degree, spurred debates across the country on the merits of obtaining the certificate.
His recent research focuses on human development and lifecycle skill formation, with a special emphasis on the economics of early childhood development. His research has given policymakers important new insights into such areas as education, job-training programs, minimum-wage legislation, anti-discrimination law, social supports and civil rights.
He is currently Associate Editor of the Journal of Labor Economics. He is also a member of the National Academy of Sciences, and a fellow of the American Academy of Arts and Sciences, the Econometric Society, the Society of Labor Economics, and the American Statistical Association.
Related Speakers View all
---
Robert Mundell

On December 10, 1999 Robert Mundell, Professor of In...

Caroline Hoxby

Scott and Donya Bommer Professor in Economics & Expe...

Jacques Attali

French Economist, Business Leader

Jon Bergmann

Pioneer of the Flipped Class Movement & Bestselling ...

Rob Grunewald

Economist & Early Childhood Education Advocate

Robert C. Merton

Distinguished Professor of Finance, MIT Sloan School...

Alan Blinder

Economic Commentator at CNBC, Former Vice Chairman a...

Clay Shirky

Expert on New Technology & Social Media, & How They ...

Cheryl Brown

Founding President of the Brown Foundation for Educa...

John Legend

Ten-Time Grammy Award Winning Musician & Philanthropist

Jeremy Rifkin

Leading Global Technologist, Futurist, Authority on ...

David Pogue

Host of NOVA ScienceNow & Yahoo Tech Columnist

Sophal Ear

Leading Researcher on Post-Crisis Nations

Alan Dershowitz

Harvard Law School Professor; Leading Expert in Civi...

Sherman Alexie

Poet, Short Story Writer, Novelist, and Performer

Jody Lewen

Founder & Executive Director of the Prison Universit...

Bill Ayers

Professor & Education Theorist; Co-Founder & Radical...

Lord Eatwell of Stratton St. Margaret

President of Queens' College, Cambridge

Richard Rothstein

Distinguished Fellow of the Economic Policy Institut...

Tim Rutten

Marketing and Sales Manager, New Business Developmen...
More like James