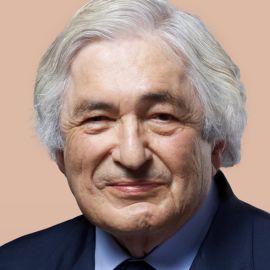 James Wolfensohn
Philanthropist, Public Servant, Humanitarian & Former President of the World Bank Group
James D. Wolfensohn is chairman of Wolfensohn & Company, LLC. He was president of the World Bank Group from 1995 to 2005 and thereafter served for one year as special envoy for Gaza disengagement for the Middle East Quartet, consisting of the United Nations, the European Union, the United States and Russia.
Immediately prior to and again after his work in public service, Mr. Wolfensohn had a long and successful career in his own investment and advisory firm, as well as leadership positions at financial firms in Sydney, London and New York, including as Group Chief Executive of Schroders Ltd. in London. He was a member of the Executive Committee of Salomon Brothers for five years.
He is chairman emeritus of the Boards of Trustees of Carnegie Hall and the Institute for Advanced Study at Princeton, both organizations with which he worked for decades. He is also chairman emeritus of the John F. Kennedy Center for the Performing Arts in Washington, D.C. He retired recently as chairman of the Citigroup International Advisory Board and he has been a member and officer of many other commercial and eleemosynary boards including the Rockefeller Foundation, the Carnegie Foundation, the Howard Hughes Medical Institute and the International Federation of Multiple Sclerosis.
Mr. Wolfensohn is a member of the American Academy of Arts & Sciences as well as a Member of the American Philosophical Society.
He is the recipient of many national and international medals and awards in recognition of his public service and his support for the arts. These include a knighthood of the Order of the British Empire (KBE), the Grand Cordon of the Order of the Rising Sun of Japan, the Commander's Cross of the Order of Merit of the Federal Republic of Germany and the award of Officer of the Order of Australia (AO).
He holds a BA and LL.B from the University of Sydney and an MBA from the Harvard Graduate School of Business. He was an officer in the Royal Australian Air Force and a member of the 1956 Australian Olympic Team.
He and his wife, Elaine, have three married children: Sara, Naomi, and Adam.
Videos
---
Speech Topics
---
space
universe theory earth physics industrial life people legislature inflation
global
system cities greece mobile growth government china countries euro
content
news responsibility human rights people monetary corporate governance arab
portugal
india africa mobile forest technology regulation people understanding rural
Global Economy and Development Challenges of the 21st Century
Drawing on his two terms as president of the World Bank, James Wolfensohn explores the tectonic global economic shifts in the coming decades, their repercussions for the global economy and why they matter. With dignity and focus, he presents the development challenges faced by middle and low-income countries, based on his extensive travel to more than 130 nations in the last ten years. Wolfensohn focuses on how to manage economic growth to benefit not just the rising economic powerhouses like India and China, but also lagging and impoverished regions such as Sub-Saharan Africa, to create a more equitable world. Wolfensohn speaks on specific poverty-related challenges in areas of health, education and employment as well as looking at the impact of interventions such as micro finance, school reforms and HIV/AIDS prevention programs.
Peace and Stability in the Middle East
At the request of the United States, Russia, the European Union and the United Nations, former World Bank President James Wolfensohn recently served as special envoy for Gaza Disengagement. Drawing from his unique experience, Wolfensohn explores trends in the Middle East and prospects for peace and stability in the region as he shares his program for economic resurgence in Palestine.
The Role of the Private Sector in Poverty Reduction
James Wolfensohn, former World Bank president and international financial adviser, combines his expertise in business and development to present how the private sector can contribute to development. He describes the changing environment in which business is increasingly finding itself; an environment defined by opportunities for growth in developing countries. Wolfensohn believes that the private sector will be one of most important forces of prosperity and wealth generation in developing countries. How should companies see their role and responsibilities in developing countries? How should they respond to expectations to go beyond profit seeking? Wolfensohn explores how companies can blend economic and social value in their quest for profit.
Related Speakers View all
---
Joseph Stiglitz

American Economist, Professor at Columbia Universit...

Howard Schultz

Executive Chairman & Former CEO of Starbucks; Former...

Larry Page

CEO of Alphabet & Co-Founder of Google

Thomas Friedman

Three-Time Pulitzer Prize Winning Commentator; New Y...

Sergey Brin

Co-Founder of Google & President, Alphabet Inc.

Robert Reich

Economic Analyst, CNBC Contributor, Professor, Autho...

Jeff Zucker

President, CNN Worldwide

James Tisch
Steve Wynn

Creator of Experience-Oriented Las Vegas Resorts

Mark Zuckerberg

Founder & CEO of Facebook

Peter Orszag

Economist, Vice Chairman of Corporate and Investment...

Isaac Mizrahi

Fashion Designer & Former Creative Director of Liz C...

Michael Milken

Financier, Philanthropist & Chairman of the Milken I...

Gerald M. Levin

Former Chairman & CEO, Time Warner, Inc.

Dan Glickman

Vice President of the Aspen Institute & Senior Fello...

Richard Dreyfuss

Academy Award-Winning Actor

Sandy Weill

Former CEO & Chairman of Citigroup

Calvin Klein

Iconic American Designer

Maksim Chmerkovskiy

Professional Dancer, "Dancing with the Stars"

Ryan Bomberger

Emmy Award-Winning Creative Professional, Co-founde...
More like James