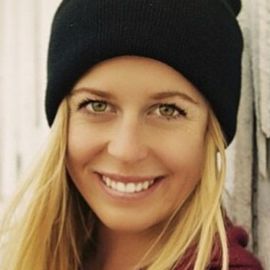 Jamie holds some esteemed titles from her professional skiing career: Jamie was the first girl in the world to double-flip in a competition and to flip off a rail in competition.
Jamie crashed and went into a coma from a traumatic brain injury on April 11th, 2015. She awoke after 8 days with a blank slate and had to relearn everything. With the help of her family, she turned a life-altering struggle into a success story. Jamie learned personal strengths and communication skills that can only be taught through life experiences. Jamie has made a complete recovery and is a college graduate, ambassador for multiple companies, talk show host, and public motivational speaker.
Jamie's story connected people globally at the time of her crash, and has continued to do so through her public speaking and appearing in movies and events. At the time of her crash, Jamie's sister started the hashtag #MoCrazyStrong, which connected supporters globally. Now Jamie is the host for her show "Life Gets MoCrazy" on the Brain Injury Radio Network, and continues to connect people. Jamie is also an ambassador for various women-specific action sports companies, which expands her interpersonal and leadership skills.
Videos
---
Speech Topics
---
Recognition of Neuroplasticity
You can create new synaptic connections in your brain. It is extremely challenging to create these new nerve pathways; I compare it to walking through snow up to your neck - hard but not impossible. A patient will think it is impossible to create new nerve pathways if they don't believe they can take the first step.
How to Create Your Own Luck
Creating your own luck by setting obtainable goals, and believing in your present self. This is an important distinction from who you want to be in the future or who you were in the past.
Overcoming Adversity
While everyone encounters hardships in their lives, not everyone is able to learn and grow from them. By avoiding a fixed mindset and using a growth mindset instead, you will find all the doors that have opened after life-altering struggles.
Crash Through Glass Ceilings
How to become successful in a field where race, sex or finances set you at a disadvantage.