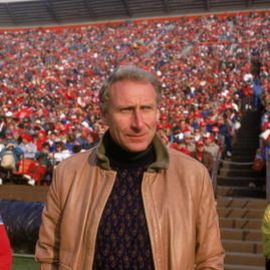 Jan Stenerud
Former Football Player for the Kansas City Chiefs, Green Bay Packers, and Minnesota Vikings of the NFL
Stenerud was one of the first professional football players to be used as a dedicated kicker, due to his excellent "sharp shooting" ball kicking performance. He was one of the first placekickers to use the "soccer style," a technique first implemented in the AFL.
After the 1969 season, Stenerud won a Super Bowl with the the Chiefs when they defeated the Minnesota Vikings 23-7 in the Super Bowl IV. In that game, Stenerud kicked 3 field goals, one of them from 48 yards, scoring the first 9 points of the game for his team. His 48 yard field goal would stand as a record for the longest sucessful field goal attempt in the Super Bowl until it was broken by Denver Broncos kicker Jason Elam in Super Bowl XXXIII after the 1998 season.
Stenerud is a member and is the only dedicated kicker to be enshrined in the Pro Football Hall of Fame. The Chiefs have retired jersey number 3 in his honor.
In recent years Stenerud has been involved in a Kansas City firm which is involved in designing stadiums and sports arenas. He has also worked as a commentator for Scandinavian TV channel TV3's Super Bowl sunday coverages in the 1990's, and still maintains strong ties with his native Norway. The street where he grew up, in the town of Fetsund, was renamed in his honor.