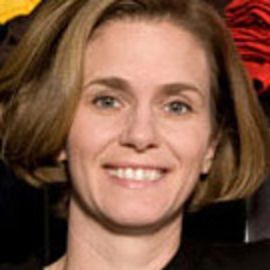 Jana Eggers
CEO of NaraLogics; Innovation & AI Expert
Jana Eggers knows her customer. She also knows that innovative products can only succeed in the marketplace if they meet a customer's real needs. As head of Intuit's Innovation Lab [iLab], Eggers and her team take on projects considered too risky for a business unit's focus and researches them through what she calls a 'completely customer-focused' process.
Actually, Eggers leads three business organizations for Intuit. When she isn't driving the innovation process, she is general manager of QuickBase and Customer Manager – two young, strategically important business units.
How does she manage it all? "Some days it's about survival," she says, laughing.
How did Eggers find herself with so much responsibility? It began in college where she pursued a degree in mathematics and computer science. "I didn't tell my family until my junior year that I was majoring in math. They wanted to know, 'What do people do with a math degree?'"
What Eggers did with her degree was put it to work in research, technical and business roles at Los Alamos National Laboratory, Princeton Transportation Consulting Group, Lycos Inc., Sabre Inc., Apps.com and Basis Technology Corp. And then, along came Intuit.
Imagine Customers Who Clamor for Participation "At Intuit, ideas flow in from all corners of the company, usually directly from customers," reports Eggers. At any one point, Eggers says, a business unit might have 7 to 10 big ideas they want to go after. iLab vets out those ideas deemed too risky by the business units but might reap big rewards if given the opportunity.
"We actively push for those high-risk projects that business units rightfully don't pursue," says Eggers. "Our motto is 'we fail so you don't have too.' If we succeed, the business-units take over, if we fail, the failure is ours, not theirs."
For the Lab to find success, Eggers had to create a repeatable process for exploring ideas, iteratively developing them as products and transitioning them back to the business units. Along the way, all learning, successful or otherwise, is shared with the entire company.
Related Speakers View all
---
Tim O'Reilly

Founder and CEO, O'Reilly Media

Sean Gourley

Physicist, Political Advisor, TED Fellow & Expert In...

Huma Abidi

Engineering Director of the Artificial Intelligence ...

Joseph Sirosh

Microsoft VP, Corporate, Information Management and...

Susan Etlinger

Industry Analyst at Altimeter, Artificial Intelligen...

Peter Norvig

Computer Scientist, Expert on Artificial Intelligenc...

Michael Li

Founder and CEO of the Data Incubator

Danny Lange

Vice President of AI and Machine Learning at Unity T...

Ankit Jain

Data Scientist at Uber, Ex-Facebook Intern, Educator...

Forrest Iandola

CEO of DeepScale

Mike Henry

Co-Founder and CEO at Mythic

Mark Hammond

Co-Founder & CEO at Bonsai

Manish Goyal

Director and Global Leader for the Artificial Intell...

Martin Görner

Developer Relations at Google

Danny Goodman

Founder of Switchback Ventures

Dan Golden

Director of Machine Learning at Arterys

Zachary Glassman

Data Scientist in Residence at the Data Incubator

Alex Gladstein

Chief Strategy Officer at the Human Rights Foundatio...

Marina Rose Geldard

Computing Student, Technology Expert

Alex Ge

Data Scientist at SAS
More like Jana