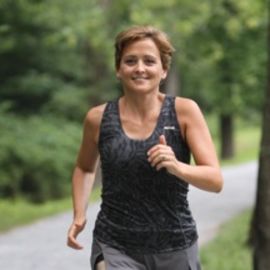 In seconds, a family vacation became a nightmare when a horrific auto accident decimated marathon runner Janet Oberholtzers legs and shattered her pelvis. It seemed unlikely she'd even survive, let alone put back any of the pieces of her life. Her determination carried her through the difficult physical recovery, but was no match for the depressing emotional and spiritual trauma that followed and proved almost fatal as Janet struggled to come to grips with her new normal.
Today this heroic woman is leading a full life and back to running half-marathons and is a writer, blogger and speaker. Her first book, "Because I Can: Doing what I can, with what I have, where I am" won a publishing contest and was released on September 20, 2011. It is a memoir of her body, mind and spirit recovery.
Before her accident, she was a successful business women, owning a garden center with her husband Jerry. They have three college-aged sons. On her blog, JanetOber.com she writes about her experience of overcoming her accident, running and how to maintain a healthy body, mind and spirit.
Janet's story that will give her audience hope ... whether they have physical limitations or if their world feels hopeless due to difficult circumstances, unwanted changes or the monotony of life.
Related Speakers View all
---
Hutke Fields

Principal Chief of Uvcenv Cunv Uvsel at Natchez Nati...

Julie Elsdon-Height

Julie is a power-house, challenging people to shake ...

Denise M. Wilbanks

Contemporary thinker and visionary

Katie Schmatz

Ohh the Possibilities...

Greg Montana

The Quantum Monk will inspire your audience to tears...

Rita Young Allen

Award-winning Soloist, Teacher

Shawn Rene Zimmerman

Professional Fitness Model and Celebrity Trainer

Eric Gnezda

Singer, Songwriter, Educator, Author, TV Producer & ...

Mimi Guarneri

Cardiologist & Author.

Super Star

Sought after Motivational Speaker, Recording Artist,...

Shari Upbin (Director)

Theatre Director

Stephen Sapato

the most famous unfamous speaker in America

Cathy Sexton - The Productivity Expert

Ignite Your Performance & Accelerate Your Results

Aaron Joy

respected rock music critic, label owner & interview...

'Randy Williams

Trading life's tragedies for triumphs!

Inside-Out Beauty

Be Healthy, Be Beautiful, Be You

Cynthia B. Stotlar

Spiritual Support for Your Stressed-Out Soul

Cherise Bopape

Author, Freelance Writer

Siddiqi Ray

Photographer and Wellness Coach

Nathan Ellis

Motivational speaker for diverse employee groups and...
More like Janet