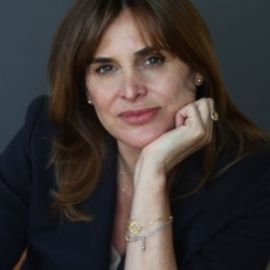 Janine di Giovanni
Author, Award-Winning Foreign & War Correspondent; President of the Jury of the Prix Bayeux-Calvados for War; Current Middle East Editor at Newsweek
Janine di Giovanni is one of Europe's most respected and experienced reporters, with vast experience covering war and conflict. Her reporting has been called "established, accomplished brilliance" and she has been cited as "the finest foreign correspondent of our generation."
Born in the US, she began reporting by covering the first Palestinian intifada in the late 1980s and went on to report nearly every violent conflict since then. Her trademark has always been to write about the human cost of war, to attempt to give war a human face, and to work in conflict zones that the world's press has forgotten.
She continued writing about Bosnia long after most people forgot it. In 2000, she was one of the few foreign reporters to witness the fall of Grozny, Chechnya, and her depictions of the terror after the fall of city won her several major awards.
She has campaigned for stories from Africa to be given better coverage, and she has worked in Somalia, Rwanda, Sierra Leone, Nigeria, Kenya, Ethiopia, Benin, Burkino Faso, Ivory Coast, Zimbabwe, Liberia, as well as Israel, Egypt, Iraq, Afghanistan, the Balkans, East Timor and Chechnya.
During the war in Kosovo, di Giovanni travelled with the Kosovo Liberation Army into occupied Kosovo and sustained a bombing raid on her unit which left many soldiers dead. Her article on that incident, and many of her other experiences during the Balkan Wars, "Madness Visible" for Vanity Fair (June 1999), won the National Magazine Award.
It was later expanded into a book for Knopf/Bloomsbury and has been called one of the best books ever written about war. "Madness Visible" has been optioned as a feature film by actress Julia Roberts' production company, Revolution Films.
Di Giovanni has written several books: "Ghosts by Daylight: A Memoir of War and Love" (Bloomsbury/Knopf 2011); "The Place at the End of the World: Essays from the Edge" (Bloomsbury 2006); "Against the Stranger" (Viking/Penguin 1993) about the effect of occupations during the first intifada on both Palestinians and Israelis; "The Quick and The Dead" about the siege of Sarajevo, and the introduction to the best-selling Zlata's Diary about a child growing up in Sarajevo. Her work have been anthologized widely, including in The Best American Magazine Writing, 2000.
She has won four major awards, including the National Magazine Award, one of America's most prestigious prizes in journalism. She has won two Amnesty International Awards for Sierra Leone and Bosnia. And she has won Britain's Grenada Television's Foreign Correspondent of the Year for Chechnya.
She is one of the journalists featured in a documentary about women war reporters, "Bearing Witness," a film by three-time Academy Award winning director Barbara Kopple, which was shown at the Tribeca film festival and on the A&E network in May, 2005.
In 1993, she was the subject of another documentary about women war reporters, "No Man's Land," which followed her working in Sarajevo. She has also made two long format documentaries for the BBC.
In 2000, she returned to Bosnia to make "Lessons from History," a report on five years of peace after the Dayton Accords. The following year she went to Jamaica to report on a little-known but tragic story of police assassinations of civilians, "Dead Men Tell No Tales." Both films were critically acclaimed.
Janine di Giovanni is a contributing editor to Vanity Fair, a contributing writer to the New York Times, Granta, Newsweek and many others; and now a weekly columnist for international affairs for Newsweek. A member of the Council on Foreign Relations, she frequently lectures on human rights abuse around the world.
Related Speakers View all
---
Dr. Scilla Elworthy

Founder of the Oxford Research Group

Katty Kay

Anchor on BBC World News America; Co-Author of "Wome...

Anna Holmes

Founder and Editor of Online Women's Magazine, Jezeb...

Joyce Maynard

Former New York Times Reporter & Columnist; Best-Se...

Laura Snyder

Professor; Science Historian; Philosopher; Author of...

Shiza Shahid

Entrepreneur, Technologist, Investor, Impact Leader ...

Jodi Kantor

Pulitzer-Prize Winning Journalist & Author

Dr. Jill Biden

Former Second Lady of the United States

Anne-Marie Slaughter

Foreign Policy Expert, Author & CEO, New America Fou...

Elizabeth Warren

U.S. Senator, Massachusetts

Sarah Lacy

Technology Journalist; Founder & CEO of PandoMedia a...

Hoda Kotb

Broadcast Journalist, Television Personality, Author...

Lynn Sherr

Award-winning Broadcaster & Best-selling Author; Cor...

Jacqueline Novogratz

Founder & CEO of Acumen Fund

Gail Evans

Former CNN Executive & Best-Selling Author; Diversit...

Nuala O'Connor

President & CEO of the Center for Democracy and Tech...

Marlo Wright

Entrepreneur, Author, and Motivational Speaker

Lalita Ballesteros (Lauryn)

Sales/Marketing Expert, Blogger and Cultural Entrepr...

Sabine Heller

CEO of invitation only social community ASMALLWORLD...

Nancy T. Nguyen

Hit-and-Run Survivor; Crowned 2011 Miss Corporate Am...
More like Janine