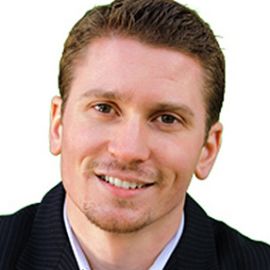 Jared James
Keynote Speaker and Trainer, "Web Choice Winner" for REALTOR Magazine
Ever since Jared was a child he would find himself studying people and human nature and always coming back to the question of why some people are so much more successful than others? Why are some people great entrepreneurs? Why are some people top sales producers in their fields while others consistently flirt with mediocrity? Although it is a never ceasing learning process, he has uncovered some of the answers to these questions and has seen the difference they can make in his own life.
In the real estate industry, Jared James built one of the largest and fastest growing teams in the country, was inducted into the International Hall of Fame for the world's largest real estate company, wrote a best-selling book and was even voted by the over 2 million readers of the international publication REALTOR Magazine as their Web Choice Award Winner recognizing their favorite Realtor in the country among their 30 under 30 edition... all before the age of 28.
Jared is considered a leading expert in the area's of sales, culture, technology and the effect your environment has on your success. His unique approach of focusing on the intangible traits that ultimately make some people rise above others has made him one of the most sought after speakers in North America.
Currently Jared James is still a serial entrepreneur and the CEO of Jared James Enterprises (JJE) and travels around North America and Europe speaking to and training audiences on how to remain relevant and increase their incomes in today's market place.
He has keynoted events for some of the largest organizations in the world and has been featured, quoted and written about in numerous publications like the New York Times, USA Today and Personal Development Magazine.
Related Speakers View all
---
Bill Rancic

"The Apprentice" Winner; Entrepreneur; Star of "Giul...

Brian Parsley

Sales, Customer Loyalty & Employee Retention Expert

Anand Bhatt

Speaker on eastern and western spirituality, leaders...

Cheryl Cran

Future of Work & Change Leadership Expert; Author of...

Joseph Irons

Speaking nationally and Internationally on motivatin...

Kathleen Wood

Entrepreneur, speaker, author and expert in leadersh...

Jose Feliciano, Jr.

Jose Feliciano has been achieving the impossible for...

Tim Seitz

The World's Happiest Hypnotist

Jay Handler

Speaker, Radio Host & Author of "The 8 M's of Market...

Jerry Fletcher

CEO of Z-axis Marketing, Inc; Expert Business Speaker

David Nour

Social Networking Strategist

Matthew Halloran

One of the Top Financial Services Coaches in the Nation

Kaplan Mobray

Executive Coach, Best-Selling Author & Personal Bran...

Andrew Zezas

Corporate Real Estate Advisor, Transaction Specialis...

Jeff Korhan

New Media Marketer, Award Winning Entrepreneur, and ...

Jan Vermeiren

Founder of The Compassionate Leader & Author

Patrick Schwerdtfeger

Business Futurist & Author of "Anarchy Inc."

Michael Boylan

Founder and Chief Executive of Accelerant, creator o...

Thom Singer

Keynote Speaker, Master of Ceremonies & Business Author

R "Ray" Wang

Founder, Chairman & Principal Analyst at Constellati...
More like Jared