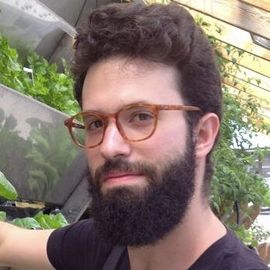 Brooklyn-based Edenworks created an aquaponic system that enables the farming of both plants and fish in the same place. The self-regulating indoor system enables them to sustainably grow fresh and ready-to-eat food year round.
When Matt LaRosa joined Edenworks in early 2013, he was a college freshman who still hadn't even picked a major. But when he overheard CEO Jason Green at a pitch competition explain his plan to transform industrial buildings into high-tech farms, he immediately abandoned his own pitch and pitched himself to Green instead. The duo, along with cofounder Ben Silverman, went on to create the self-regulating aquaponic system that now supplies microgreens and fish to Brooklyn.
The Edenworks model differentiates itself from other urban farms in that it is a complete, aquaponic ecosystem. Waste from the tilapia fish is used as a natural and potent fertilizer for the microgreens planted on vertically stacked power racks. They have no need for synthetic fertilizers or pesticides that can diminish the nutritional quality of produce.
Videos
---
Related Speakers View all
---
Aditya Agarwalla

Cofounder, Kisan Network

Teju Ravilochan

Co-Founder & CEO at the Unreasonable Institute

Annie Ryu

Founder, The Jackfruit Company

Ricky Ashenfelter

Cofounder, Spoiler Alert

Jake Layes

Director, Global Cleantech & Entrepreneur Impact, Au...

Sivan Ya'ari

Founder and CEO, Innovation Africa

Sarah Rosenkrantz

Cofounder Y2Y

Sam Greenberg

Cofounder Y2Y

Galen Welsch

Cofounder, Jibu

Up Top Acres

Kristof Grina, Kathleen O'Keefe, Jeff Prost-Green - ...

Rachel Sumekh

Founder, Swipe Out Hunger

Michael Roytman

Cofounder, Dharma Platform

Ryan Ross

Program Director, Halcyon Incubator

Uriel Eisen

Co-Founder & CPO Rorus Inc.

Corinne Clinch

Cofounder and CEO Rorus Inc.

Jason Terrell

Cofounder of Profound Gentlemen

Mario Jovan Shaw

Cofounder of Profound Gentlemen

Sam Pressler

Founder, Armed Services Arts Partnership (ASAP)

Liz Powers

Co-Founder of ArtLifting, Chief Happiness Spreader

Daquan Oliver

Founder of WeThrive
More like Jason